Customer Relations Coordinator
Beograd, Pećinci
12.11.2021.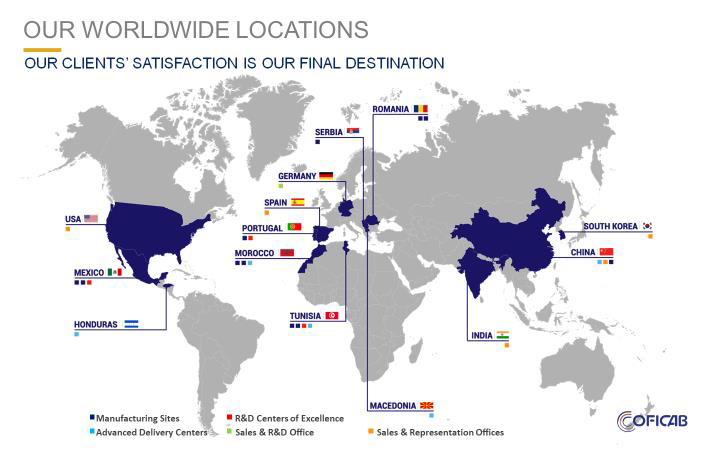 Customer Relations Coordinator
About Coficab
Coficab is a global leader in design, production and sales of cables and wires in automotive industry.
Coficab has built a global presence expanding sustainably through well designed network of R&D centers and sales offices around the world.
Coficab operates on all 4 continents and in 10 different languages.
Coficab promotes commitment, team work, passion and reaching high ethical standards as basis of its company culture (as company values).
Coficab is focused on becoming employer of choice that has a strong and successful team.
Coficab employs over 3000 people worldwide. We excel at finding and continuously developing outstanding talent.
Coficab is keeping up with the constant evolution of the automotive industry, by developing specialty cables in many areas. We have our e-COF line for electric and hybrid vehicles applications, our COFData line of cables for connectivity, we have our COFSENSE cables for autonomous driving purposes, and we even have smaller and lighter cables for space and weight reduction applications, these are called COFSkinny and COFAlu.
Coficab designs and manufactures the cutting-edge cables and wires for tomorrow's cars.
Job Purpose:
As our Customer Relations Coordinator your job purpose is to maintain a good relationship with customers in order to develop an adequate understanding about each customer's business model and requirements. Monitors forecast's reliability and coordinates customers' orders deliveries OTIF in order to guarantee high level of customer satisfaction.
Your Key Challenges are to:
Analyze and monitor customer forecast reliability. Develop an adequate understanding about customer's requirements and needs (Customer's Inventory, Consumption...etc.) in order to adjust and improve forecast's reliability.
Receive, verify and enter timely customer's forecasts and orders in the information system and provides feedback to customers.

Perform, follow up and update

delivery plan based on customer orders and priorities in order to optimize transit time & pick/pack/loading time.

Deal with customers extra orders, urgent delivery requests. Coordinate customer's claims treatment process including products return coordination (reverse logistics), actions plan progress and customer feedback.

Advise about preparation schedule, generate pick lists accordingly, control and update physical preparation progress, products labels, delivery documents, packaging and trucks loading.

Validate delivery in the information system and comminate Advanced Shipment Note to customers (ASN). Follow up delivery accuracy On-Time-In Full (OTIF) and takes needed actions.
Prepare, communicate and review out bounded Logistics KPI's and defines accordingly continuous improvement plans of processes, procedures and systems in line with the Logistics Department and company's objectives.
Perform other duties or tasks as may be reasonably requested. Complies with the Quality and EHS Systems requirements. Complies with corporate values, code of conducts and non-disclosure agreement.
Educational Requirements:
Bachelor's degree in Logistics, Economics, Transport Management or Transportation Administration
Required Experience:
2 years in customer service in industrial environment (automotive sector is desired)
Skills required to perform the job:
Supply chain synchronization / customer relationship management / Demand management & forecasting / manufacturing process environment / Risk management / Negotiations skills / Communication technics
Language & Software Skills:
MS Office Softwires (Excel, Words, PPT), CRM software and ERP applications.

English is a must
Behavioral Competencies:
Communication, building relationships, self-development, managing performance, personal effectiveness, business skills, leading people, developing others.
If you feel you're the right candidate for the role as our Customer Relations Coordinator then please click 'apply' now! We'd love to hear from you!
Coficab Serbia d.o.o.
Srbija, Deč, Selište 3
PIB: 109323635
Matični broj: 21161675
Više o poslodavcu