Oglas dostupan i osobama sa invaliditetom
Oglas dostupan i studentima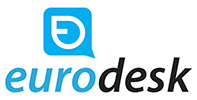 Senior System and Network Administrator
Job location: Belgrade
EuroDesk d.o.o. is recruiting Senior Systems administrators for its Remote Infrastructure and Cloud Management practice, serving international customers 24/7 and its own Internal IT on several different IT environments. The successful candidate will be able to flexibly manage heterogeneous systems (typically Win + Linux) from servers (both physical and virtualized), to storage systems and networking devices.
Main responsibilities:
Datacenter transition support - L2 Operations
Operating System, Networking, Monitoring and Storage Support
Creation and upkeeping of Client and internal documentation
Ensuring and maintaining optimal performance of all managed systems
Management of backups and restores
Planning of Disaster Recovery activities
Qualifications required:
University level education in computer science (or similar discipline) and/or comparable experience with a minimum of 5 years configuring and maintaining IT infrastructures.
Required Technical Skills:
Operating Systems: Both Windows server + Linux are a must. Additional OS nice to have
Cloud deployed infrastructures (Azure, Google Cloud, AWS)
Virtualization frameworks (ESX, Hyper-V, Citrix)
Storage devices/solutions (SAN/NAS equipment – IBM, EMC,QNAP, HP, DELL)
Vmware vSAN
Office 365 and hybrid Exchange environments (setup, configuration and monitoring)
Office 365 and Skype for Business / Lync Server on-premise environments (setup, configuration and monitoring)
Identity Management solutions – ADFS, FIM, MIM, other federation solutions
DirectAccess implementation and management
Cisco ISE and multi-site (geographical) wireless infrastructures
Solid understanding of Cisco Cloud Proxy
Active directory (User administration, Group Policies, etc.) and integration with Azure AD
Knowledge of network routers and switches (HP, Cisco), static and dynamic routing, NAT, network traffic analysis
Solid understanding of Cisco ASA devices
Monitoring and deployment tools (PRTG, SCOM, SCCM, Nagios, Zabbix, etc)
Experience with enterprise level tools for backup and recovery
Additional desired skills:
Experience with VOIP systems (Asterisk or Cisco Call Manager) strongly preferred
Experience with ITILv3 standards
Experience with OTRS, ServiceNow, and similar ITSM tools
Any higher-level Cisco Certifications with tangible hands-on experience very nice to have.
To apply for this position, send your CV electronically.
Email applicants should include an English version of the CV (editable plain text or unprotected MS Word, please no PDF) along with any other relevant documentation (Cover letter, certifications, etc.).
Deadline for applications: 16.06.2018.