Oglas dostupan i studentima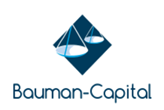 Bauman Capital is an international financial marketing firm specialising in fully integrated marketing strategy and communications programs for financial industry around the world.
As an international organisation, we're justifiably proud of our people and the success they achieve. In our industry, the demands on you can be high, but the satisfaction and challenge of working alongside bright and successful people offer the prospect of a truly rewarding career.
Are you ready to explore opportunities to take your career to the next level? Whether you are a student, a graduate or an experienced professional, discover the impact you could make with a career at Bauman Capital.
In line with the extensive growth of our Belgrade operations, we are currently looking for candidates for the position of:
Executive Manager / Aide to CEO & CBO
Belgrade
Responsibilities:
Reporting directly to the Chief Business Officer (CBO) and Chief Executive Office (CEO), the Executive Manager provides executive, administrative, and development support to the CEO and CBO. The Executive Manager serves as the primary point of contact for internal and external constituencies on all matters pertaining to the CEO and CBO only.
The Executive Manager serves as a liaison to the Board of Directors and senior management teams; organizes and coordinates executive outreach and external relations efforts; and oversees special projects.
Provides leadership in program management and prioritization of the CEO & CBO office
Participates in key strategic initiatives and issues management within the organization on behalf of the CEO & CBO
Acts as a liaison between the CEO/CBO and executive team to ensure effective internal processes
Acts as point of contact for all documents that require review of the CEO/CBO, provide critical review of these documents for content and ensures final versions are delivered in a timely manner to the CEO/CBO
Facilitates, researches and prepares reports, briefings, presentations, responses on organizational and strategic issues, and/or engages others to do so on behalf of the CEO/CBO
Is responsible for handling the recruitment process for all the business-critical positions
Requirements:
Operational office management experience e.g. as an Office Manager
Positive, ambitious, not afraid of hard work and challenges personality interested in career development in a fast-pace international corporation
Creative problem solver abilities
Understanding of financial policies and budgetary requirements, including forecasting
Must be able to identify real obstacles and viable solutions
Must be able to influence across all functions and levels in the organization
Compensation & Benefits:
People create success, which is why we go to great lengths to attract, inspire and reward creativity and talent. We are proud to provide highly competitive compensation and benefits offerings as part of the total reward of working at Bauman Capital including:
Attractive base salary
International team buildings, for example: trip to the USA, Dubai and Ibiza
International career opportunities
In addition, annual performance awards
Deadline for applications: 30.05.2018.