Oglas dostupan i studentima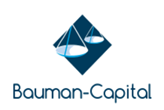 Bauman Capital is an international financial marketing firm specialising in fully integrated marketing strategy and communications programs for financial industry around the world.
As an international organisation, we're justifiably proud of our people and the success they achieve. In our industry, the demands on you can be high, but the satisfaction and challenge of working alongside bright and successful people offer the prospect of a truly rewarding career.
Are you ready to explore opportunities to take your career to the next level? Whether you are a student, a graduate or an experienced professional, discover the impact you could make with a career at Bauman Capital.
In line with the extensive growth of our Belgrade operations, we are currently looking for candidates for the position of:
International Team Leader (fluent English)
Belgrade
Requirements:
If you're interested in working with us, you should be able to demonstrate that you are highly motivated, with a commercial focus and strong analytical and communication skills. We look for people who enjoy being challenged, are team oriented and have good attention to detail.
Language requirements: fluent English
Previous financial instruments' sales experience will be considered an advantage
Understanding of customer satisfaction strategy
Team management experience is a plus
Effective problem solving skills
Ability to work effectively under pressure and adapt quickly to changes
Drive to succeed
Positive attitude
Highly motivated
Compensation & Benefits:
People create success, which is why we go to great lengths to attract, inspire and reward creativity and talent. We are proud to provide highly competitive compensation and benefits offerings as part of the total reward of working at Bauman Capital including:
Attractive base salary
One of the best monthly commission plans in the industry + team performance commission
International team buildings for the best sales representatives, for example: trip to the USA, Dubai and Ibiza
International career opportunities
In addition, monthly and annual performance awards
Deadline for applications: 30.05.2018.