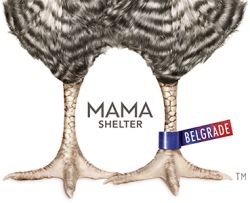 Mama Shelter BELGRADE
Bellboy
Location: Belgrade
Come join the lively, spirited family of MAMA Shelter! Founded in 2008 by Serge Trigano and his sons Benjamin and Jérémie, MAMA is a place for people of all ages, countries, cultures and ethnic backgrounds to come, gather and connect. Be a part of the magic that is MAMA! We are currently looking for people who possess drive, charisma and warmth to join our team in Mama Shelter Belgrade.
As the Mama family member, while representing the Company, you are expected to embody the Mama Spirit. Being genuine, kind, considerate, courteous, thoughtful, positive and respectful to ALL Mama Family Members, guests, vendors, contractors and anyone on the Mama Shelter premise is essential to you performing your position here at Mama Shelter satisfactory. This also includes being mindful of these characteristics while representing Mama Shelter at any time. Mama is like an urban kibbutz, providing our guests with a fun, friendly, personal human experience and Family with an exciting, enjoyable place to work and your attitude is vital to Mama's success.
Objective: Helping guests of the hotel with their requests during the stay. Working closely with front desk team and performing various tasks according to their needs and requests.
Essential Duties and Responsibilities:
Greets and welcomes guests, follows guests to the front desk
Assists guests with luggage
Escorts guests to room, placing luggage in room assigned by front desk
Answers inquiries regarding hotel area and services
Provides guests with places to visit, eat and shop; collects and distributes messages for guest
Takes care of the cleanliness and order of the lobby and front desk area
Arranges transportation for guests
Assists guests with parking on their arrival
Carries luggage from the room upon request
Other duties as assigned from the relevant scope of work
Skills/Qualifications:
Related hotel work experience is an advantage
High school diploma
Must possess excellent communication skills
Ability to anticipate needs and wants of guests while balancing business needs of the Company
Good at organizing and prioritizing tasks
Meticulous and responsive
Works great in a team
Must have the ability to work flexible work hours including evenings, weekends and holidays
Ability to stand and walk for extended periods of time
Apply electronically with your resume.
Deadline for applications: 01.05.2018.