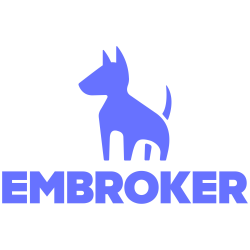 QUALITY ASSURANCE JUNIOR
Reporting to: Quality Assurance Lead
Status: Full Time
Job location: Belgrade
About Embroker
Embroker is a Silicon Valley based startup that's building the future of insurance, a $5T global industry. Founded in 2015, Embroker has already been named one of the innovators shaping the future of finance by Goldman Sachs, and also one of the startups disrupting trillion-dollar industries by CNBC. Embroker is headquartered in San Francisco, with other offices in Chicago, Boston, and Belgrade.
Our team is a diverse and talented group with deep experience in insurance, engineering, product design, sales, and marketing. We work hard, have fun solving hard problems, and love pushing the boundaries of what's possible in our industry.
We're looking for talented, obsessive people to join us in building the world's first next- generation insurance company. We promise cutting-edge challenges, the opportunity to work with superstars, constant improvement, and massive upside for those who contribute and grow with the company.
Interested in joining us? We'd love to hear from you.
About the position
Quality assurance junior is responsible for assuring the quality of the product. As a member of the Quality Assurance team, they are expected to take an active role in quality assurance activities and develop an in-depth knowledge of the product. Participation in challenging product design and execution will also be expected, as well as high efficiency in both manual and automated testing, and testing technologies.
Job Duties
Smoke, functional, integration, exploratory, and regression black-box and gray-box testing
Participation in test automation activities
Planning testing strategies for features or pieces of infrastructure
Deep familiarity of the product
Bug submission
Active participation in team and company meetings
Knowledge sharing
Required Experience and Skills
IT related degree
2+ years experience in quality assurance
Understanding of software engineering methods and principles
Good knowledge of quality assurance methods and principles
Skilled in black-box and/or gray-box automated testing
Experience with web applications is an advantage
Experience with SQL is an advantage
Experience with JavaScript is an advantage
Experience in the insurance industry is an advantage
Experience working in Agile / Scrum teams is an advantage
What Embroker offers
Competitive salary & paid vacation
Comfortable work environment
Scrum environment
Flexible working hours
Top-of-the-line tools
Smart, like-minded colleagues
Team building events
Opportunities for advancement, training, and certification
In-office drinks, snacks, fruits, etc.
Subsidized fitness card
Subsidized parking, transportation or healthcare
Chance to shape the future of insurance
Deadline for applications: 01.08.2017.