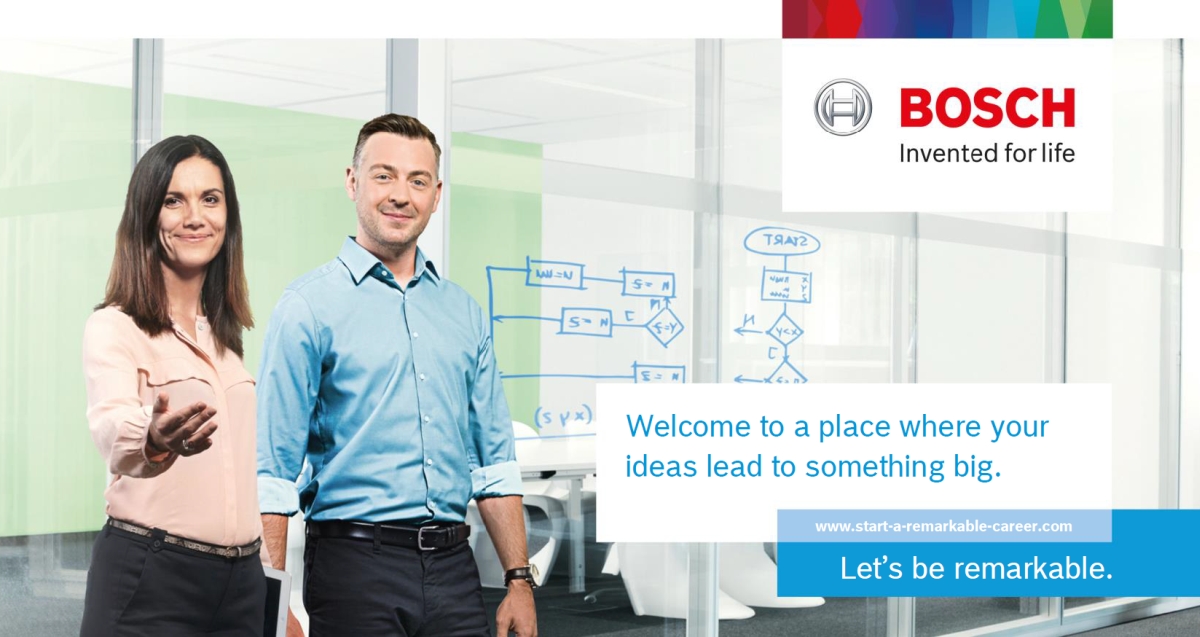 Start something big today. Apply now:


Senior Android Developer

Connected Automotive Mobility Solutions
Location: Belgrade


Do you want beneficial technologies being shaped by your ideas? Whether in the areas of mobility solutions, consumer goods, industrial technology or energy and building technology – with us, you will have the chance to improve quality of life all across the globe. Welcome to Bosch. At Bosch, we develop, examine and enhance new systems, components and technologies. Our aim is simple – improving lives.

Bosch Division Connected Mobility Solutions is leading the way with intelligent telematics, big data and connected services and digital products in the automotive area, thus working towards a truly integrated driving experience. Compliant with manufacturers all over the world, our scalable services, platforms and solutions represent a new framework for connected mobility.

Your contribution to something big:

► Work in a cross-discipline agile team to build compelling mobile user experiences
► Implement key product features and core modules
► Build libraries and frameworks to power Android apps
► Reach a high degree of testability to ensure the quality of our apps and SDKs
► Keep an eye on performance, scalability, and security
► Work on the existing codebase to maintain and improve the stability and quality of software components
► Implement software architecture based on patterns, best practices and architecture guidelines
► Closely collaborate with PO and architects as well as with your Android development team; make sure that architectural guidelines are followed
► Mentor and teach developers through code reviews and pair programming to increase knowledge and code quality
► Share your professional experiences and best practices to optimize and refactor

What distinguishes you:

► Being creative and thinking ahead, but also pragmatic and solution focused
► Good communication skills
► Being assertive and convincing with good reasons
► High level of motivation, responsibility and reliability as well as organization skills
► Proactive communication and high social skills

What you bring with you:

► Graduate degree (university or similar)
► At least 3 years of professional experience in Android development as well as architecture and software patterns (e.g. MVP, MVVM); working examples a plus
► Strong knowledge about the Android SDK, usability, best practices and guidelines for Android
► Proven experience with the following tools: Android Studio, Retrofit, OkHttp, Dagger; Kotlin a plus
► Optional: functional programming / reactive programming skills (e. g. Java 8, Streams, Lambda Expressions, RetroLambda)
► Knowledge about integration with backend services (HTTP, REST)
► Knowledge and experience with continuous integration and automated testing (unit and UI testing, mocking, integration testing)
► Knowledge about build environments and setup (Bitbucket, Jenkins, Gradle/Maven) desirable
► Proven experience with agile development (Scrum + Kanban) and tools like Jira, Confluence
► Experience with NDK, accessory protocols like Bluetooth and / or iOS development is an advantage
► Fluent English

We offer:

► Innovative and technologically advanced projects
► Positions with permanent status
► Individual training and further education
► Great team with helpful colleagues in a very attractive location
► Collaboration with international teams in a global organization
► Excellent working conditions and career options in a diverse, open company with high social standards
► Open communication, flat hierarchies and short decision paths
► Chance to travel
Make it happen.
If you believe you are the right candidate, please send your CV in English using Apply button no later than 09.06.2018. Only shortlisted candidates will be contacted. www.start-a-remarkable-career.com