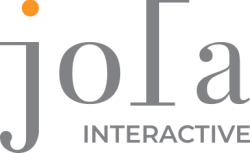 Senior UI / UX Designer
Niš
Jola Interactive is a US company, an award-winning marketing, branding and digital agency with over 50 years of collective experience. We've developed some of the most comprehensive business to business websites and marketing solutions across a wide spectrum of industries.
Our base is in Dumbo, Brooklyn, with offices in Nis.
Our team consists of vibrant, charismatic people with excellent creative skills, and we are searching for talented individuals to join our Nis crew.
Requirements:
Experience with Adobe package (Photoshop, Illustrator, Xd)
Knowledge of UI/UX trends
Precise in work and have strong attention to detail
Like working in a team
Open to receive suggestions
Good in giving ideas and propositions
Fluent English
Responsibilities:
Customer Analysis and Design Research
Wireframing and Prototyping
Branding and Graphic Development
Mobile First Design Strategy
Interactivity and Animation
Adaptation to All Device Screen Sizes
Creating functional documentation
Bonuses:
Portfolio, so we can get a glimpse of your capabilities, vision and previous work
Past work with Magento 2
CGI
Deadline for applications: 11.07.2019.