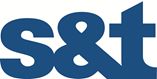 We are always on the lookout for motivated individuals who share our goal of developing and providing the highest quality of services to our growing customer base. Our future colleague should show innovative and creative approach, passion for work s/he does, desire and ability to continuously learn and grow, and be committed to deliver quality and excellence.
Due to further expansion, S&T Serbia is seeking to offer to the right candidate opportunity to work as part of our team in the role of:
System Support Engineer
Based in Belgrade
In this position we expect from you to successfully:
Participate and/or lead projects in line with S&T project methodology
Work on datacenters system implementation, outsourcing and customer support
Conduct t configuration, installation, putting into production, customization and optimization of systems and equipment of the world leading IT system providers: IBM, EMC, HP, Oracle/SUN, and CISCO
Provide on-site and remote troubleshooting and support services to customers under SLA
Constantly keep up-to-date and improve knowledge to the highest level. Achieve partners' certificates for demanding expertise and according to IT vendor standards
Achieve and devote to high customers' satisfaction
Advise clients regarding technical architecture for their systems, check if proposed solution is in line with company procedures
Conduct technical, consulting and pre-sales activities in the areas of operating systems, databases, servers, virtualization, datacenter outsourcing, business continuity and others using technologies primarily for following vendors: IBM, Oracle/SUN, and Red Hat.
Lead user courses and conduct mentoring when needed
Perform other tasks as per direct manager instructions
We also expect you to demonstrate:
Past experience related to installation, configuration and maintenance of Server OS (Linux and/or IBM AIX /or Oracle/SUN Solaris)
Past experience in backup and archiving systems: installation, configuration and maintenance (preferred knowledge of IBM Tivoli Storage Manager backup software)
Past experience in virtualization technologies: installation, configuration and maintenance (preferred knowledge of IBM PowerVM, IBM LPARs, IBM VIOS)
Preferred past experience in Server OS clusters: installation, configuration and maintenance (IBM PowerHA and/or Linux clustering) will be considered as advantage
Past experience in database systems administration: installation, configuration and maintenance (IBM DB2, Oracle Database and/or Microsoft SQL) will be considered as advantage
Requirements:
University degree, preferably ETF
Current technical certificates
Fluency in English language (spoken and written)
Driving License B category
We offer:
Financial stability, continuous skills improvement and business success
Strong opportunities for professional growth, enhancing skills through extensive training, participation in huge innovative projects
Attractive compensation packages with varied ways of rewarding success and benefits tailored to our local markets.
If you consider yourself to be one of the best, contact us and let's talk.
S&T Serbia, part of Austrian based international corporation S&T AG, is one of the leading companies in IT services in Adriatic region. S&T Serbia combines world class technology with regional expertise and strong local understanding of customers' needs and expectations. It has been present on Serbian market for 20 years. Additional information can be found at www.snt.rs and www.snt.at.
Deadline for applications: 01.04.2017.