Frontend Developer
Beograd
02.06.2019.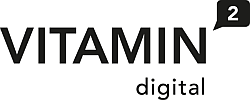 Frontend Developer (f/m/x)
Belgrade
Who we are
VITAMIN 2 is a design driven communication agency based in St.Gallen, Switzerland which was founded back in 2001. Adapting to the needs of our clients and customers, we moved into the digital market many years ago. In 2017, our growing digital team expanded to Belgrade, Serbia and we are proud to call ourselves an international full-service agency ever since. We're focusing on unique user experiences by combining creativity with top-notch technology. Clients love us for our passionate work, which takes them through the entire digital journey. And of course, because we add value, deliver click-rates and let them grow. After all: that's what vitamins do.
What you do
As a Frontend Developer you are contributing the interactive part to your teammates designs and concepts. It's your responsibility to ensure the product corresponds to our high user experience standards. You combine complex technology with creative designs and interaction concepts and deliver a seamless experience to the users of the products.
Who you are
You focus on frontend development but you've also some basic knowledge to run something from the console or change a line of php
You love to animate elements with precision but also know how to update that object from the connected API
You have some knowledge what object-oriented programming and functional programming is and when to use it
You love solving complex tasks and problems alone or in the team
You have numerous experiences with web technologies such as HTML5, CSS3, JS and Frameworks such as Node.js, VueJS etc.
You have experienced developing frontend applications or websites by yourself
You have an eye for perfect pixels and you are interested in new technologies around the web
You are used to work independently in a small cross-functional team
You are able to communicate in English
What you can expect
A young and motivated team who wants to continuously improve
The opportunity to work occasionally in St.Gallen
Working on a diverse portfolio of projects, some smaller some bigger
High involvement in projects
Team weekends which bond your team even more together
Flexible working environment
Room for self-initiative and responsibility
Five weeks of paid holidays
A long lasting employment relationship
A portable computer for professional and personal use
One or two beers with your colleagues at the end of a hard day or week
Convinced? Drop us a message.
Deadline for applications: 02.06.2019.
Vitamin2 digital
VITAMIN 2 is a design driven communication agency based in St.Gallen, Switzerland which was founded back in 2001. Adapting to the needs of our clients and customers, we moved into the digital market many years ago. In 2017, our growing digital team expanded to Belgrade, Serbia and we are proud to call ourselves an international full-service agency ever since. We're focusing on unique user experiences by combining creativity with top-notch technology. Clients love us for our passionate work, which…
Više o poslodavcu