Oglas dostupan i osobama sa invaliditetom
Oglas dostupan i studentima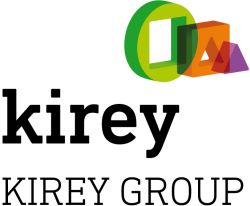 Who are we?
Kirey is dynamic, innovative, different and creative information technology company that offers systems integration and consultancy services. With a team of professionals and experts in the ICT sector Kirey is able to meet the needs of customers worldwide. We are part of the Kirey group and we have professional support from colleagues in Italy, Romania, Croatia and Africa and thanks to the exclusive partnership with Tech Mahindra our global presence becomes real.
We are a new company looking for people like you, talented, team player and willing to learn, to strengthen our organization: it's just a matter of time before you will join us and start building your success with us.
What are we looking for an:
Angular Frontend Developer
Niš
Candidates must have clear justification of how and why they use certain technology, be straight thinker and passionate about their growth, have excellent social and communication skills and proven ability of team working.
Mandatory skills:
Extensive knowledge of HTML, CSS and JavaScript
Working experience with Angular(2)x framework
Working experience with REST API
Analytical thinking and problem solving skills
English skills (written and spoken)
Results oriented person
Ability to work to targets and with specified standards
Team player
Pluses:
Working experience with AngularJs
Experience in web applications development with Java EE technology
Practical knowledge of Spring MVC
Practical knowledge of Hibernate technology
Database: PostgreSQL
What are we offering:
We offer you to work in dynamic and innovative environment and to improve your already great knowledge, to work with creative people who will help you to realize your ideas.
Work in a multinational environment
Opportunity to travel (Italy and Europe)
Competitive salary package based on proven experience
Performance based bonuses
Team working and career development programs
Collaborative environment with competent and enthusiastic colleagues
Our resources and ideas make us unique, and who doesn't want to be part of that? We won't say: "Create the future" because we already did that, we are calling you to become the future. Interested?
We know you are.
Send your CV electronically.
Please note that due to large number of applications we receive, we will only contact those candidates that are selected for an interview. Thank you. For more information visit the website: www.kireygroup.com.
Deadline for applications: 09.12.2018.