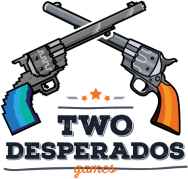 Two Desperados is a Belgrade based video games development studio. Our games are leaders in the Marble shooter game category with over 30 million players!
Our philosophy is focus on creating entertaining moments, add something unique and make it fun. Constant search of new concepts, perfecting old ones and creating memorable experiences is what makes millions of players to love our game. This is what inspires us to move the boundaries.
Two Desperados studio always puts the player first and this creates a fun, casual and dynamic work environment - just like our games!
If you like what you have heard so far, apply for the position of
Back - end Developer
Belgrade
Job Description
We are looking for a problem solver Back-end developer to join our Development team and move our games to the next level! Our games Woka Woka and Viola's Quest have over 30 million players worldwide and that is only the beginning! Alongside our Development team, you will work with other departments as well, to create processes and routines that will help us build better games.
Here's what you will be doing
Creating, debugging, maintaining and optimizing the game's network and online services.
Design, prototype, and implement the connectivity services that will be offered in the game while keeping high scalability, availability and security in mind.
Ensure clear and structured programming, keeping performance, maintenance and compatibility requirements in mind.
Developing backend parts of game specific features.
Optimization of the application services for maximum speed and scalability.
Monitor services and work to improve the quality of the online experience throughout the life of the game.
Integrating monitoring solutions for the infrastructure.
Implementation of security and data protection.
Write clear, maintainable, portable code.
Provide training and support to internal teams.
Data migration, transformation, and scripting.
Document the work to transfer knowledge and enable users to understand how to use the new systems and features.
Desired skills and experiences
Experience working with networking protocols (UDP / TCP / Custom protocols), client-server architecture, web server technology and protocols, web services
Understanding of software accessibility and security compliance measures
Experience working Linux, MySQL, NoSQL
Proficient knowledge of the back-end programming language and the framework that is used by the company (C#, JavaScript, HTML, XML, JSON, SQL, Python)
Integration of multiple data sources and databases into one system
In-depth understanding of the entire web development process (design, development and deployment)
Proficient understanding of code versioning tools, such as Git
Logical, organized, critical thinker and problem-solving skills
Learn about new technologies
What you'll learn in this role
Learn about the industry trends and benchmarks.
Working on game development process.
Develop sustainable solutions, improving the engine and leaving it better than you found it.
How to make progress in your personal career.
Deadline for applications: 29.07.2019.