Client Specialist for Global Markets
Beograd
25.05.2019.


FORTRADE, licensed brokerage company is HIRING!
Join one of the world's top brokers and enter the world of finance
Ambitious and career oriented? Looking for constant personal development and serious financial rewards? Strong communication skills? You want to have a profession that matters? If all of your answers are 'yes' and you are NOT looking for a boring job, your place is with us!
Fortrade Ltd. was established in 2013 and has grown rapidly to become a leading provider of online trading solutions for individual and institutional clients. Based in the UK, authorised and regulated by the Financial Conduct Authority, we are innovators specialising in the development of trading platforms that are both technologically advanced and user friendly.
We offer our clients a wide range of trading instruments covering more than 300 commodities, as well as currencies, indexes and stock CFD's.
Fortrade is continually expanding: locally we are employing now almost 200 people and recently we have also obtained the Australian license. In order to satisfy the growing client interest, for our international business unit we are currently seeking for one more talented:
Client Specialist for Global Markets
Location: Belgrade (our regional Client Support Center)
We are looking for professionals to be responsible for our clients.
You are an all-rounded professional, who will be responsible for communicating and assisting potential clients which register on our website to trade on global financial market. The job vacancy does not imply searching for potential clients from your own personal data or initiative. Clients are provided and owned by the company.
Some of your main responsibilities:
Daily phone call communication with our English speaking clients and providing them all round updates about latest developments on global financial markets
Presenting products and services to existing/potential English speaking clients and assisting them in using those services properly
Advanced technical support in using of sophisticated trading platforms
Reporting to management and creation of monthly/daily business plans
Working in a state-of-the-art CRM database and other advanced software
What are we expecting from you?
Excellent English language
Desire to live and work in Belgrade
Faculty degree (economy or finance is not a must)
Experience- or strong affinity with commercial people approach
Excellent communication and negotiation skills
Professional attitude and understanding of client needs
Ambition to gain new knowledge and skills, eager to bring yourself to the highest possible level of business with strong will to succeed
Drive to build career and to progress in company hierarchy
What can you expect from us?
Opportunity to build career in top segment of financial sector, in a financial institution
Very competitive salary package (excellent fixed salary + strong bonus scheme)
Pension + health insurance
Two weeks of training course about basics of our business (as starting point of your career path) financed and covered by the company
Financed language course to fine tune your business English
Financed gym & fitness
Covered and financed work permit
Assistance with housing
Fresh fruit every day
Working in a professional department, in a pleasant international office environment (20 different nationalities)
Monthly awards to top performers
Christmas party which includes financial awards to yearly top performers
Gaming area with Playstations
Netflix laptops
Company anniversary event (in October every year)
Library
Ongoing training, personal- and professional growth
Being part of a rapidly growing, highly successful international firm, full of advancement opportunities to senior positions
Integrity, flexibility, commitment and a bright future in a legit brokerage company licensed by one of world's most appreciated financial authorities
Fortrade Ltd: If not now, when?
If you want to become part of Fortrade Ltd, send your up to date CV in English. We wish to emphasize that the place of employment is at the company Client Support Center in Belgrade, Serbia.

Deadline for applications: 25.05.2019.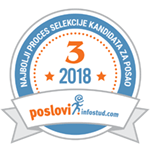 Fortrade Ltd.
Fortrade je osnovan 2013. godine i ubrzo je prerastao u vodećeg globalnog provajdera za online trgovanje na svetskom finansijskom tržištu. Svojim klijentima nudimo širok spektar instrumenata za trgovanje koji čine više od 300 valuta, CFD-ove na robe, indekse i akcije najvećih svetskih kompanija. Sa sedištem u Londonu, Fortrade je ovlašćen i poseduje licence 3 prestižna regulatora: FCA u Velikoj Britaniji, ASIC u Australiji i NBRB u Belorusiji.
Fortrade zapošljava više od hiljadu ljudi širom ... Saznajte više
Iskustva zaposlenih
"I am from India, from different culture and I really admire the working environment, and the kind of acceptance and equality Fortrade have is really appreciable. Fortrade is a place where you can paint ... " Pročitajte celo iskustvo
Beneficije
ODLIČNA FIKSNA PLATA + RAST FIKSNE PLATE U PRVIH 12 MESECI
ATRAKTIVNA BONUS ŠEMA
PLAĆENA OBUKA
PLAĆENI KURS POSLOVNOG ENGLESKOG JEZIKA
PRILIKA ZA BRZO NAPREDOVANJE
DNEVNE, NEDELJNE I MESEČNE NAGRADE
PRILIKA ZA IZGRADNJU KARIJERE
PENZIONO I ZDRAVSTVENO OSIGURANJE
TEAM BUILDING
'HAPPY FRIDAY DRINKS' SVAKOG PETKA
BESPLATNA TERETANA I FITNES
BIBLIOTEKA I KUTAK ZA ČITANJE
SVEŽE VOĆE SVAKI DAN
KUTAK ZA ZABAVU SA LAZY BAG FOTELJAMA, PIKADOM I PLAY STATION KONZOLAMA
BESPLATNA KAFA I ČAJEVI
Više o poslodavcu