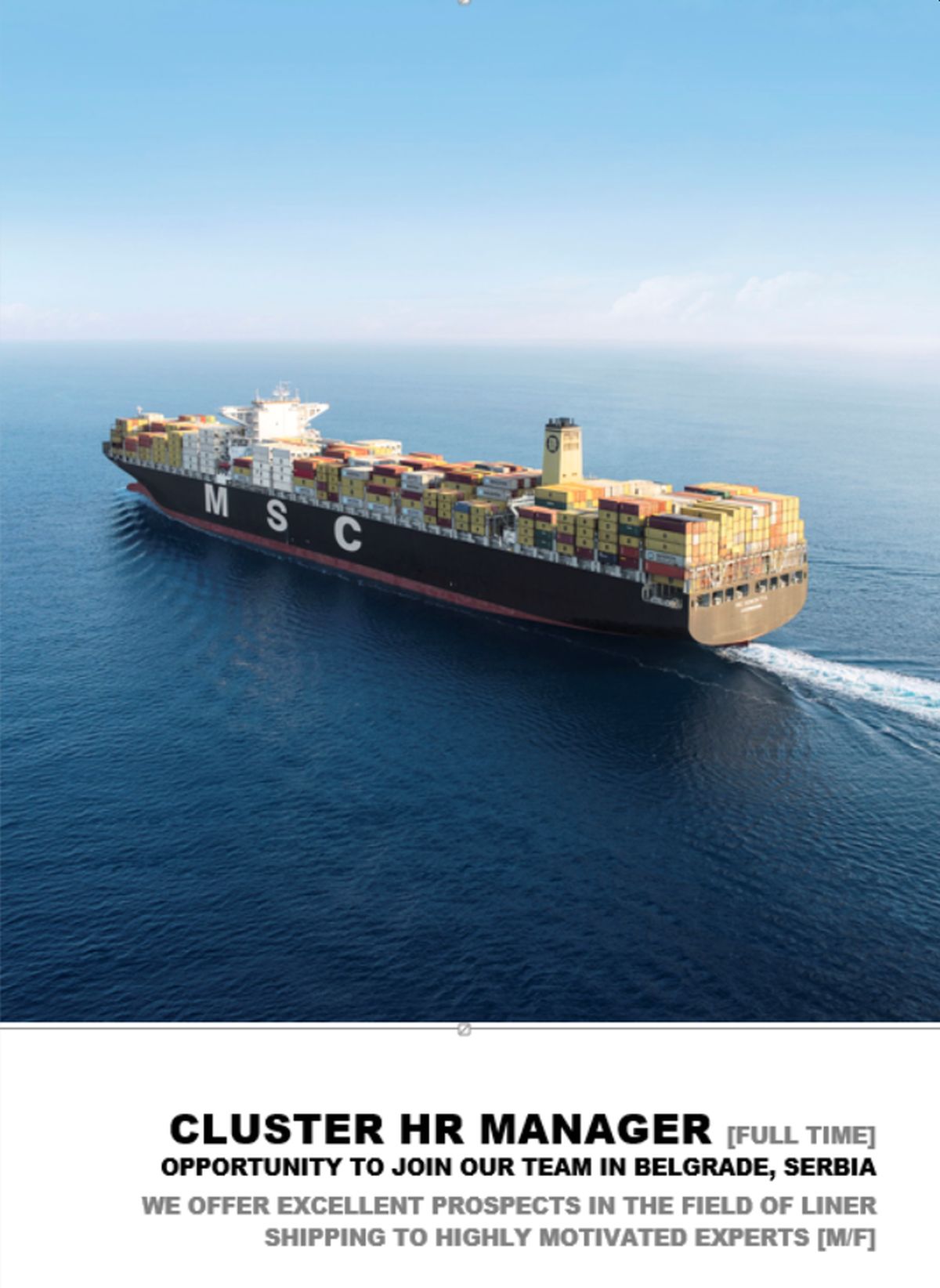 "PROVIDED YOU ARE SHARING OUR ENTHUSIASM AND ARE OPEN FOR FURTHER DEVELOPMENT, PLEASE CHECK BELOW DESCRIBED JOB OPPORTUNITY!"
START DATE:
01/02/2020
SALARY:
Depending on experience
CONTRACT:
Permanent
MSC is looking for a Cluster HR Manager for its offices in Serbia, Montenegro, North Macedonia, Slovenia, Croatia, Bosnia & Hercegovina and Moldova. You will report to each individual Managing Director of the region with a dotted line to the Regional HR Business Partner based in Athens, Greece.
Cluster HR Manager
Belgrade
As a Cluster HR Manager you will take part in the daily operations providing professional HR services and support global projects.
The main tasks will be to:
Ensure an HR standard in the daily business, reflecting the company values, in the Region by supporting the individual Managing Directors and Regional HR Business Partner on the delivery of HR Projects and Plans.
Ensure the communication and implementation of all policies and procedures for the Region's offices and identify the priorities and needs for each office in terms of HR activities.
Manage staff Learning & Development plans, by identifying training needs through internal/external resources and developing an annual training plan for the staff on a cluster level if applicable .
Monitor staff performance and overseeing the performance management process in the region whilst training all staff on the usage of the tools.
Identify and manage the compensation and benefit strategy for the staff with reference to the local markets.
Oversee national delivery of HRIS global system in partnership with the Global HR.
Develop and implement talent management processes through talent identification and development through identification of local initiatives.
Develop and implement talent management processes with the identification of high-potential employees for attendance to the MSC Academy and implement local development plans for individuals.
Maintain the succession plan and support the leadership pipeline through coaching activities.
Manage the cluster's communication strategy and drive employee engagement through an active approach of implementing events and initiatives.
Perform all necessary recruitment activities when necessary and manage the employee life cycle (hiring, onboarding, training, employment contracts, etc.)
You are an energetic and responsible person who is enthusiastic about understanding the business and aligning HR practices to support and optimize business strategy. You are able to create relationships and work proactively with people, able to act as a business partner to the managers and be perceived as a solid point of reference within the organization.
You work in a structured way and are able to have the overview but also take care of the details in the assignment. You are able to meet address various demands and to work under stressful conditions by going the extra mile when this is required and you are motivated by this.
You are
Empathic and have a natural interest in and respect for other people. You have excellent communication skills and relationship building skills as well as the ability to network. You have a strong professional approach as well as interpersonal skills, giving you the credibility to contribute and to develop the organization.
You are able to build relationships with the managers, understand their needs and create aligned plans accordingly in a structured and organized way. As well as possessing a strong motivation to support the global HR projects and drive the organization's goals to success through various HR practices.
MSC's main business language is English, therefore you must be bilingual in English and Serbian.
You hold a relevant education and a master's degree is a benefit.
Knowledge of HR employment law in the region is essential. You preferably have minimum 5 years' HR experience in an international company.
You must be available to travel 70% of the time as your work must be distributed in the region's offices.
MSC Mediterranean Shipping Company S.A. of Geneva, Switzerland is a privately owned shipping line, founded in 1970, which has rapidly grown from a small conventional ship operator to become one of the leading global shipping lines of the world.
During recent years MSC's maritime fleet has expanded substantially to consolidate its position as the 2nd largest carrier in respect of container slot capacity and of the number of container vessels operated.
We have an exciting and responsible position on offer in an environment where you can participate and make a change. Working at MSC, you will find collegial surroundings where everyone works dedicatedly and professionally to achieve the same goal: to make ourselves and our company even more successful.
MSC stands for personal service on a professional level. We attach great importance to our company culture, innovation and initiative. If you share our enthusiasm for shipping, if you are open for development and courageous enough to sometimes go unusual ways, we look forward to receiving your convincing and complete application.
Please send your application letter together with your CV in English electronically until 14.12.2019.