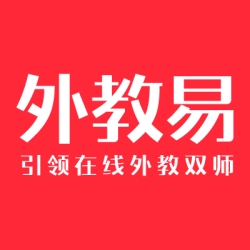 Who is Waijiaoyi?
Waijiaoyi is a leading company that delivers online group classes in China. We have received investments from Li Kaifu of Sinovation Ventures, the investor of VIPKID and from Leijun of Shunwei Capital, which is also invested in 51 Talk. Li Kaifu has held important positions in many major companies such as Apple, SGI, Microsoft and Google, and Leijun is the founder of Xiaomi Mobile Phones. Waijiaoyi keeps an open mind and specializes in making connections to promote the development of the relationship between Chinese children and foreign teachers, so that further exchanges can be made between China and foreign cultures.
English Teacher
Home Based Position
Location: Telecommuting (Online)
Part Time position:
Pay Rate: $9 - $11 per hour (paid if with class)
Monthly KPI Incentive
Stability reward every half year
Professional ongoing training with pay
Job Requirements:
English Speakers from European countries
Bachelor's Degree

OR
TEFL/TESOL/ CELTA Certification
Teaching Experience (Online or On-site / One-to-one, group or classroom)
Excellent command of English
Group class teaching experience is an advantage
Job Description:
Responsibilities:
Deliver online lessons to students of particular grade level
Evaluate and grade students' class work and participation
Provide effective feedback to guide student earning and success
Attend discipline specific and administrative meetings as scheduled
Class Introduction:
Set-up: Online Group Class (10 - 20 students)
Student age range: 8 - 16 years old
Teaching materials: provided by Waijiaoyi
Class length: 25 minutes
Teaching Platform: ClassIn
Working Schedule: (Beijing Time)
8:00 AM - 6:00 PM (Saturday & Sunday)
Salary range: 200,00 - 300,00 USD
Deadline for applications: 03.02.2019.