Fundraiser for Small & Medium Enterprises
Belgrade
31.05.2019.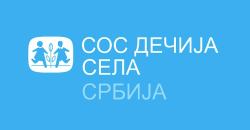 SOS Children's Villages Serbia is a member of SOS Children's Villages International, founded 1949, helping more than 1.200.000 people in 135 countries worldwide. We are present in Serbia since 2004, in SOS Children's Village Kraljevo and through different family strengthening and youth empowering programs, in other locations in Serbia, aimed at providing a loving home for every child.
In order to support our programs development and sustainability, we are looking for:
Fundraiser for Small & Medium Enterprises
(location: Belgrade)
Mission of the position:
Pursue opportunities with and fundraise from small and medium enterprises in the country to fund the relevant programs, investments and costs of the organization in Serbia to reach financial self-sufficiency in accordance with the Corporate&SME Fundraising Strategy and the annual Business Plan; by monitoring, evaluating and analyzing the actual results (vs. the targets) and the competitor activities.
Establish and maintain long term partnership with local donors, manage and upgrade the accounts, network and position the SOS Children Villages International brand according to the brand vision, mission and values.
Key performance areas and main responsibilities:
Fundraising from small&medium enterprises by partnership negotiations
Implementation and update of the corporate&SME fundraising strategy
Participation in development and upgrading of the annual FR Business Plan, budget and the annual FR tools (product portfolio and packages, presentations, proposals, partners' categorization, loyalty services)
Creating attractive product offer (continuous giving, in-kind donations, custom made giving, once-off donations, etc.), through different channels (direct mailing, face-to-face, events, campaigns, etc.)
Account management: building and development long-term partnerships with donors, networking and brand positioning
Own performance monitoring, market and competitor monitoring and analysis
Requirements:
University degree in humanities, organizational sciences, economics, management, international business development / marketing, sales / business administration / business management / public relations or communications (Masters Degree in a relevant field will be considered as asset)
At least 2 years of verified experience and results in the field of fundraising, marketing or B2B sales at international NGOs or multinational companies
Candidate profile:
Highly developed negotiations and account management skills
Excellent networking skills
Fluent spoken and written English language
PC literate
Driver – B category
Strong motivation to identify with the vision, mission and values of SOS Children's Villages
Excellent written and verbal communication and presentation skills
Good at relationship-building with different levels and stakeholders of various organisations, companies, business partners
Positive working attitude and ability to work under pressure
Highly organised, result-oriented, proactive and reliable
Innovative and creative, claiming and demonstrating high professional standards
Engaged, determined, persistent, "can do" and solution-oriented mentality
Good team player
Strategic and analytical thinking abilities
If you are interested in the position please send your CV electronically.
Only shortlisted candidates will be contacted.
Deadline for applications: 31.05.2019.
Fondacija SOS Dečija sela Srbija
Fondacija SOS Dečija sela Srbija je humanitarna, nevladina organizacija, posvećena dobrobiti dece – brizi o deci bez roditeljskog staranja, i jačanju snaga porodica i zajednica u brizi o svojoj deci i očuvanju njihove bezbednosti, kao preventivnoj meri protiv napuštanja i zanemarivanja dece. Članica smo Međunarodne organizacije SOS Dečija sela, koja u 135 zemalja sveta pomaže više od 1.200.000 hiljada ljudi. U Srbiji smo prisutni od 2004. godine, kroz brigu o deci bez roditeljskog staranja u SOS…
Više o poslodavcu