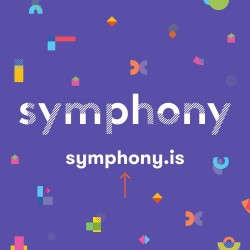 We are...
Symphony!
Symphony is the first culture driven technology house dedicated to crafting the workforce of the future.
We stand shoulder to shoulder with the most creative entrepreneurs in Silicon Valley and the world. We work on the kinds of challenges that keep entrepreneurs up at night and we build the teams and spaces that get engineers up in the morning (Having a hard time waking up? Free coffee, fruits and a morning community catch up might help on those rough mornings).
We're on a mission. Symphony is building a global community - not just a company - where bright minds want to come to work and play. Our current technological playground includes all currently popular technologies in Silicon Valley and it changes in sync with progress in the tech world.
After successfully building Symphony homes in San Francisco, Sarajevo, Belgrade, Novi Sad, Amsterdam, Skopje and Berlin, we are now building our new home in Nis. We are therefore very happy to announce the first vacancies for our first ambassadors in Nis.
Our team in Nis is on a lookout for an:
HR Manager
Nis
You'll have a chance to work with our one of a kind HR Team and build our Nis team from the very beginning.
You will...
Take an active role in developing and implementing the overall HR strategy in our Nis hub
Take the leading role in Nis hub's growth and development
Play a crucial role in Talent Development, Performance Management, Employee satisfaction and engagement and all other people - related processes
You are...
A Psychologist, with 5+ years of experience in the HR Manager of HR Business Partner role
You are energetic, people person and a problem solver who understands business and supports people and organisation in exceeding incredible results. High dose of flexibility, mental openness and social intelligence will be of much help :)
Your core strengths should be:
Excellent communication skills
Business-oriented & initiative-taking mindset and approach
Great organisation skills, flexibility and high efficiency
High ethical standards
Objectivity and fairness
Coaching and mentoring skills
No one can whistle a Symphony! Projects: augmented reality, biotechnology, machine learning, wearables and much more... Office with impressive fun zone and comfy work zone, tasty, healthy food, playroom...
Meet us on Facebook, LinkedIn and www.symphony.is
When choosing new team members, we love to be mutually impressed. If we've impressed you, we challenge you to impress us and we will get back to you soon. Only shortlisted candidates will be contacted. We would like to thank all the applicants for the interest to join our team!
Deadline for applications: 29.11.2019.