IT Coordinator
Beograd, Pećinci
30.11.2021.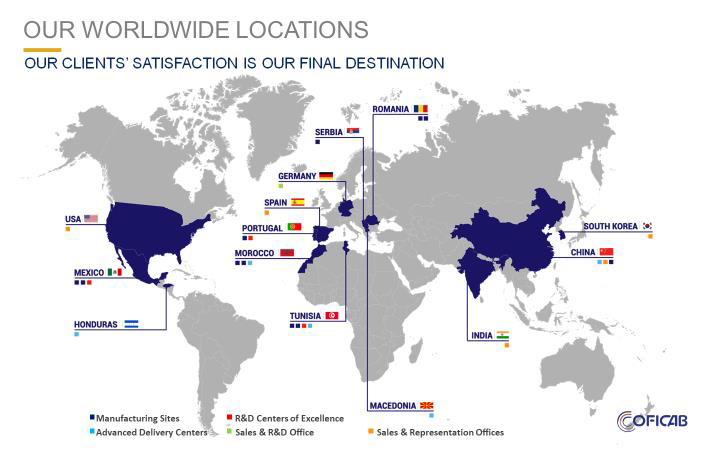 IT Coordinator
About us
COFICAB is a best-in-class world leader in the manufacturing and sales of automotive cables and wires. The company is a member of the Tunisian multinational industrial group, ELLOUMI Group, founded in 1946. COFICAB Group's footprint expands over 11 countries all over the world. The group is number 1 worldwide in its capacity as a tier 2 supplier to most of the big players in the automotive industry.
COFICAB prides itself on its focus and investment in innovation and excellent service to its customers. It also prides itself on its most valuable resource: its People.
COFICAB employs over 3000 people worldwide. We excel at finding and continuously developing outstanding talent.
Job Purpose
Maintaining and operating plant's IT infrastructure covering servers, networks & security systems under acceptable service levels and infrastructure availability rate to ensure business continuity. Providing service desk and IT & service operations management including daily operational activities and physical IT environment management to meet department objectives and corporate strategy.
Your responsibilities would be to:
Operate administering, maintaining and supporting plant's network, system infrastructure and security including carrying out routine configuration and installation, documentation, administration and maintenance activities of IT systems, databases, network hardware & software and related peripherals.
Operate infrastructure additions, upgrades, replacements/retirements in order to meet business requierements and IT standards. Suggest requiered technical skills and ressources needed to support the ongoning operation of the IT infrastructure.
Monitor and control IT infrastructure & services including day-to-day routine tasks related to the operation of infrastructure components and applications such edition of operation logs and reports and facilities Management in a timely and reliable way.
Conduct service operation activities including event & access control management, service request fulfilment to ensure an effective & efficient IT services delivery.
Implement incidents management process including first line investigation & diagnosis, analyzing records & log and resolving incidents, escalating incidents to business applications supervisors, following up resolution while keeping requestor informed and conducting customer/user satisfaction callbacks, surveys.
Implement IT problems management process including recurrent incident analysis, root-causes analysis, actions plans definition and implementation and action plan efficiency verification.
Prepare, communicate and review IT KPI's and define accordingly continuous improvement plans of processes, procedures and systems to meet the IT department and the Company's objectives.
Educational Requirements:
Minimum BA degree in Computer Science
Required Experience:
1 - 3 years of experience in similar position would be an advantage
Skills required to perform the job:
ITIL knowledge, IT operating systems environements, IT hardware and software, Networking Hardware & Software Plateforms knowledge, Cloud Architecture & Enironements Knowledge, Virtualization techniques & Environements knowledge, Databases management, Quality standards, Quality standards, Continuous improvement techniques, Analytical and problem solving skills, Organizational skills, Budgeting & Cost estimating, Project Management, Risk Management, Change Management.
Language & Software Skills:
MS Office Softwares (Excel, Word, PPT, Outlook...), ERP, MES, BI, HRIS applications.
Conversational English is a must.
Coficab Serbia d.o.o.
Srbija, Deč, Selište 3
PIB: 109323635
Matični broj: 21161675
Više o poslodavcu