Maintenance Equipment Engineer
Beograd, Pećinci, Šimanovci
20.05.2021.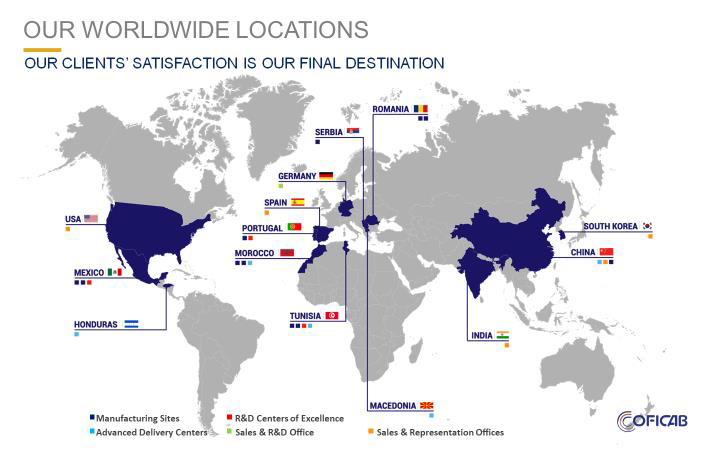 About us
COFICAB is a best-in-class world leader in the manufacturing and sales of automotive cables and wires. The company is a member of the Tunisian multinational industrial group, ELLOUMI Group, founded in 1946. COFICAB Group's footprint expands over 11 countries all over the world. The group is number 1 worldwide in its capacity as a tier 2 supplier to most of the big players in the automotive industry.
Maintenance Equipment Engineer
Job Purpose:
As our Maintenance Equipment Engineer your job purpose is to develop the maintenance preventive and predictive policies and checklists and monitor their execution, analyse and monitor the realization of corrective maintenance interventions, provide on field support for the diagnostic of critical equipment failures. Develop technical documents for preventive and corrective maintenance execution in order to maximize equipment availability and performance within budget. Develop training programs for Maintenance team.
Your Key Challenges are to:
Develop the preventive and predictive maintenance policies and checklists, keep updated equipment and facilities and technical documents for maintenance
Monitor work requests prioritization, schedule work orders and resources allocation. Supervise equipment preventive and corrective maintenance works and assures that the interventions are carried out in accordance with accepted standard, industrial norms and budget
Provide on field support for maintenance teams during complex equipment problems and failures
Inspect quality of intervention, analyse interventions reports, verify records accuracy
Review spare parts needs calculation, inspect spare parts income and monitor spare parts repairing process
Review maintenance KPI's and define accordingly continuous improvement plans of processes, procedures and systems to meet the maintenance department and the company's objectives.
Educational Requirements:
Bachelor's degree in Engineering (Maintenance, Mechanical, Electrical, Automation...etc.)
Required Experience:
1-3 years in industrial environment
Skills required to perform the job: Knowledge about maintenance processes (corrective, preventive, predictive...etc.), electromechanical skills, pneumatics & hydraulic system skills, automation systems, continuous improvement techniques, scheduling work & resources planning, fault and incidents management, manufacturing process environment
MS Office Software (Excel, Words, PPT), Automation systems and ERP applications awareness.
Advanced knowledge of English language.
Behavioural Competencies:
Be able to build relationships through open and honest communication. Show ability of self-development and personal effectiveness. If you possess good business skills and have experience in leading people it will be an advantage.
If you feel you're the right candidate for the role as our Maintenance Equipment Engineer then please click 'apply' now! We'd love to hear from you!
Only shortlisted candidates will be contacted.
Deadline for applications: 20.05.2021.