People Services Specialist – Payroll & Administration
Beograd
01.07.2020.
ugovor
puno radno vreme
1. smena

People Services Specialist – Payroll & Administration
Who are we?
Hyperoptic is the UK's hyperfast broadband network. Founded in 2011 to shake up the UK broadband market, we're leading the way in full fibre technology. With hyperfast speeds 14x faster than the UK average, we're changing the way people are experiencing broadband.
We established Hyperoptic's Belgrade office in 2013, starting with only 20 Developers to support the business. As of today we are 400 people and growing superfast - once a small start-up has become a success story in Belgrade, with over 1300 employees globally.
Due to continuous expansion Hyperoptic are hiring for a People Services Specialist who goes beyond the expected. We believe in working smarter together, whilst our teams stay focused and people passionately strive for excellence. As People Services Specialist your mission will be to contribute to the delivery of an exceptional experience to our employees, with a focus on payroll process, administrative support, coordination and reporting. You will act as the first point of contact for payroll and other people-related queries from employees and other stakeholders. Does this sound like you?
What will you be doing?
Prepare relevant payroll data (absences, bonus, leavers, deductions, etc) and collate and review timesheets received from the business
Manage accurate and timely provision of monthly payroll information to payroll provider
Administer employee benefits, people processes, ensuring all relevant departments and People Team are updated, create and maintain all employee files and ensure employee data storage compliance
Efficient usage of our electronic HRIS to store, manipulate and report on employee data (in line with the European General Data Protection Regulation)
Provide regular and ad hoc reports from the HR system to facilitate decision making
Liaise with the People team members on projects/sprints defined by the People management
What are we looking for?
Experience of working with HR issues across the whole employee life cycle
Experience in payroll preparation process
Good knowledge of HR policies and procedures
Good IT skills and familiarity with Microsoft packages such as Word and Excel with some knowledge of HR Information System
Excellent communication skills, both written and spoken (in both English and Serbian)
College / University degree would be desirable
Why are we the best place for work?
We are based in three beautiful locations in Senjak with:
Catered lunch every day
Basketball court and table tennis
Fresh fruit every week
Massage on site
Pet friendly office
We're committed to providing equal opportunities to all applicants and employees – in fact this is at the heart of our company culture and values. We welcome applications from candidates with diverse backgrounds.
What happens next?
You apply.
We carefully review your application over a decent cup of coffee.
We'll get back to you. Even if it's a no (at the moment).
Hyperoptic has been recognized in the top three for the Best Recruitment Process amongst Belgrade IT Companies, three years in a row.
And don't forget to keep an eye on our careers site as we're growing fast: https://careers.hyperoptic.com/.
We look forward to hearing from you!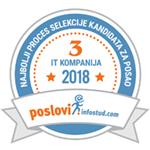 Hyperoptic Ltd
Hyperoptic is the UK's largest residential gigabit broadband provider.
The company offers the fastest broadband in the UK and is proudly setting a new fibre 'gold standard' with unmatched speed, reliability and customer service. Its hyperfast, symmetrical gigabit services are over 21x faster than the average speed a UK consumer receives today. From an idea back in 2011, we've pioneered a better broadband experience and become the UK's hyperfast broadband provider.
Operating in the UK and ... Saznajte više
Iskustva zaposlenih
"Hi there,
My name is Aleksandar and I'm a part of a Network CPE team.
In telecommunications, customer-premises equipment or customer-provided equipment (CPE) is any terminal and associated equipment ... " Pročitajte celo iskustvo
Beneficije
COMPANY EVENTS
TEAM BUILDINGS
SPORT ACTIVITIES
FRESH FRUITS EVERY WEEK
PET FRIENDLY OFFICE
TAXI VOUCHERS OR TAXI CARDS
ON SITE MASSAGE
WINE FRIDAY
BOWLING
FOOTBALL
CAREER DEVELOPMENT OPPORTUNITIES
BASKETBALL
Više o poslodavcu