Planning Coordinator
Šimanovci, Beograd
12.06.2019.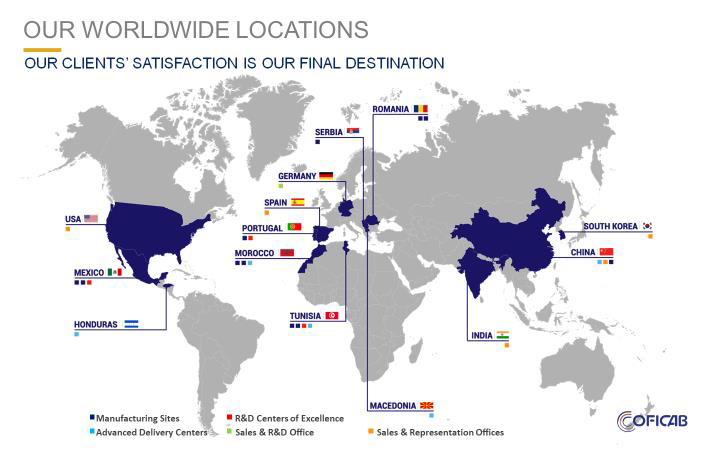 Planning Coordinator

About us
COFICAB is a best-in-class world leader in the manufacturing and sales of automotive cables and wires. The company is a member of the Tunisian multinational industrial group, ELLOUMI Group, founded in 1946. COFICAB Group's footprint expands over 11 countries all over the world. The group is number 1 worldwide in its capacity as a tier 2 supplier to most of the big players in the automotive industry.
Job description
Job Purpose:
As our Planning Coordinator your job purpose is to prepare the production planning according to customer's forecasts and orders in order to guarantee the capacity adequacy and production requirements.
Your Key Challenges are to:
Prepare production planning following customer's forecasts and order priorities to meet capacity adequacy and customers' requirements
Update and communicate production planning and PO's responding to firm orders priorities, extra orders and urgent delivery requests
Inspect level and balance of the inventory and update production planning accordingly in order to anticipate overstock, out of stock situation and overdue late schedule
Follow up on-going production plan realization, and report potential gaps
Perform delivery plan based on customer orders in order to optimize transit time & pick/pack/loading time
Prepare, control and update picking lists according to customer orders. Record delivery in the information system and communicate Advanced Shipment Note to customers (ASN). Follow up delivery accuracy On-Time-In Full (OTIF) and takes actions if needed
Prepare production planning and out bounded logistics KPI's and defines accordingly continuous improvement plans of processes, procedures and systems in line with the Logistics Department and company's objectives
Perform other duties or tasks as may be reasonably requested. Comply with the Quality and EHS Systems requirements. Comply with corporate values, code of conducts and non-disclosure agreement.
Educational Requirements:
Bachelor's degree in logistics or similar
Required Experience:
2 years in similar position in industrial environment
Skills required to perform the job: Knowledge about Inventory processes, supply chain synchronization, transportation management, logistics techniques, manufacturing business processes, customer relationship management, environmental aspects & impacts, EHS systems awareness, quality standards, data analysis
Language & Software Skills: Excellent English language
MS Office Software -Excel, MES Applications, ERP Applications /
Behavioral Competencies: Communication, building relationships, self-development, personal effectiveness.
If you feel you're the right candidate for the role as our Planning Coordinator then please click 'apply' now! We'd love to hear from you!
Only the shortlisted candidates will be contacted
Deadline for applications: 12.06.2019.
Coficab Serbia d.o.o.
SRBIJA, Pećinci, Selište 3
PIB: 109323635
Matični broj: 21161675
Više o poslodavcu