Process Engineer
Beograd, Pećinci
01.05.2021.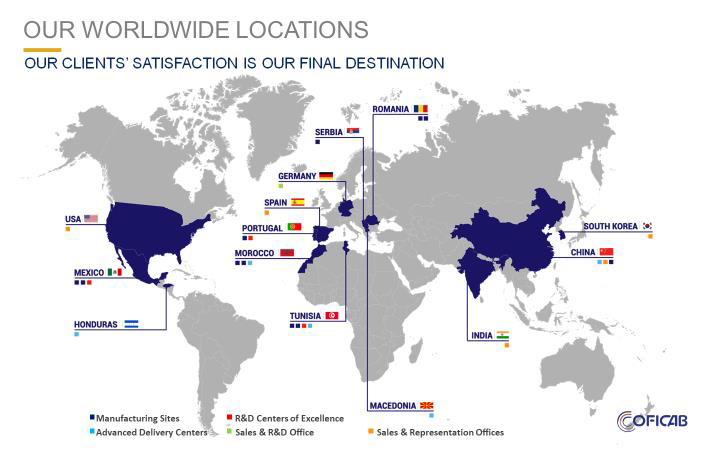 Process Engineer

Locations: Belgrade, Pećinci

About us
COFICAB is a best-in-class world leader in the manufacturing and sales of automotive cables and wires. The company is a member of the Tunisian multinational industrial group, ELLOUMI Group, founded in 1946. COFICAB Group's footprint expands over 11 countries all over the world. The group is number 1 worldwide in its capacity as a tier 2 supplier to most of the big players in the automotive industry.
Please, take time to check on our website and get to know us better: http://www.coficab.com/
Job Purpose:
As our Process Engineer your job purpose is to oversee the design and implementation of our company processes. Also, you will be responsible for developing and implementing process strategies, optimizing current processes, and maintaining process documents. Ultimately, your job is to maintain the efficiency of production in order to reduce costs.
You Key Challenges are to:
Collect production data required for copper and masterbatch overconsumption calculation. Analyze results, undertake a root cause analyses and perform risk assessment.
Review overall industrial performance results focused on production and quality performance, as to ensure process comply with safety and quality standards.
Participate in industrialization projects, update of products technical specifications documents, work instructions, visual aids and PFMEA.
Perform optimization tests
Oversee the preparation, control, adjustment and follow up of emulsion (Concentration, PH, Conductivity) and treated water (Osmosis, softening) status
Develop technical specifications of production tooling & consumables, define tooling needs, perform qualitative and quantitative reception of production tools & consumables.
Prepare, communicate and review Industrial performance KPI's.
Comply with the Quality and EHS Systems requirements. Comply with corporate values, code of conducts and non-disclosure agreement.
Educational Requirements:
Engineering degree in a technical field
1-3 years in similar position in industrial/manufacturing environment (preferably automotive)
Skills required to perform the job:
Quality standards and system regulations (ISO), Wire manufacturing processes and associated technologies, Process improvement techniques, Quality tools (Statistical Process Control, PFMEA, APQP, etc.), Continuous improvement techniques, Analytical and problem-solving skills, Inventory management, Project Management, Risk Management.
Language & Software Skills:
Computer literacy, MS Office and related applications
Fluency in written and oral English is a must.
If you feel you're the right candidate for the role please click 'apply' now! We'd love to hear from you!