Procurement Expert
Bački Jarak
02.07.2022.


Our client is Steinemann d.o.o., part of the Swiss holding company Steinemann Group, one of the leading suppliers of products and services, including tools and equipment for construction and garden. The competences of Steinemann d.o.o. include the production of tools for the construction sector and of components for district heating stations for the Swiss market in the highest quality.
In order to optimize their sourcing, we are looking for an analytical and responsible person for the position of
Procurement Expert

Requirements:
university degree in supply chain management, logistics, organisational science or business administration
3 years of experience in procurement / logistics, preferably within the same industry
knowledge of sourcing and procurement techniques
skilled in negotiations and networking
experience in collecting and analysing data
strong organizational skills, accuracy in work
fluency in English, while knowledge of German is a plus
advanced computer skills (MS office) with experience in ERP
Responsibilities:
implement group sourcing strategy in line with local conditions
identify, evaluate and develop suppliers, negotiate with external vendors to secure advantageous terms
monitor target attainment relating to supply management, particularly regarding quality, logistics, cost of materials
ensure continuous improvement of supply and value chain with the aim of streamlining logistical processes and reducing lead times
act as a professional point of contact for issues relating to supply management as part of product development projects
comply information and records to prepare purchase orders for procurement of material
verify nomenclature and specifications of purchase requests
oversees and control stock level
compile records of items purchased or transferred between departments, prices, deliveries, and inventories, (DMS)
determine TCO (Total Cost of Ownership)
contracting (confidentiality agreement, warehouse category management)
maintain metrics, reports, process documentation, customer service logs, or training or safety records
resolve problems concerning transportation, logistics systems, imports or exports, or customer issues.
active supplier management, participates in performance evaluation
review global, national, or regional transportation or logistics reports for ways to improve efficiency or minimize the environmental impact of logistics activities
active support track and report key functional metrics to reduce expenses and improve effectiveness
collaborate with decision making persons to ensure clarity of the specifications and expectations of the company
control expenses and focus on long-term savings on procurement costs
Steinemann is offering you the opportunity to become a part of successful team, and to further develop your professional abilities.
If you believe that you are the right person for this position, please send your CV in English to our e-mail address, with full confidentiality.
Hill International, Beograd, Ruzveltova 45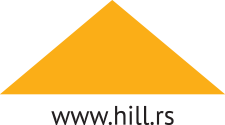 HILL International d.o.o.
Srbija, Beograd, Ruzveltova 45
PIB: 101011936
Matični broj: 07514395
Više o poslodavcu