Product Engineer
Odžaci
26.06.2019.


At Magna, we turn ideas into industry standards for all of automotive. We push the boundaries of technology and innovation to transform vehicles, careers, and the future of mobility. Why work for one automaker when you can work for the entire industry?
Product Engineer (m/w)
Magna Seating Odžaci, Serbia
Group Information
Magna Seating is an innovative leader in the development and manufacture of high quality complete seating systems, seat structure and mechanism solutions as well as foam & trim products for the global automotive industry. Our capabilities range from market and consumer research, full concept development, design and engineering, testing and validation to world-class manufacturing.
Job Introduction
This position reports directly to the Engineering Department and is responsible for the general and specific job duties as described below.
Major Responsibilities
Work with the Program Manager to provide input on product direction.
Provide technical expertise and sales support for the quoting of new and exiting programs.
Assist in bringing a product from customer concept/design to full production status including design feasibilities.
Maintain program costs within budget. Prepare and issue complete request for quote packages to potential suppliers, and complete a competitive analysis prior to awarding business. Use the Decostar Tooling Manual along with engineering drawings and math data as a guideline for quotes.
Provide cost and timing as required for all engineering changes for assigned programs. When released, follow-up and ensure changes are implemented correctly and on budget.
Manage and support the Decostar APQP Process via the development of the program execution plan under the guidelines of the APQP process.
Coordinate secondary tooling in conjunction with the Tooling Manager and the Program Manager. Check fixtures will be quoted according to specific design standards.
Maintain program information sheets, B.O.M., design records and PPAP binders.
Work with the Advanced Quality Manager to prepare documentation to support submission packages.
Insure product packaging is designed, sourced and delivered to meet product, customer and program timing constraints.
Work with Tier II suppliers PPAP submissions as assigned.
Provide all part requirements for customer order up to and including pilot parts.
Provide any required assistance to production needs including the training of production team members during start-up phases as required.
Become the lead Program Engineer on the program after launch and manage the cost analysis, VE/VA, engineering changes and CI actions on each specified program.
Perform other duties as directed.
Knowledge and Education
Bachelor's Degree in Engineering or equivalent required.
Understanding of tool construction.
Trained in FMEA, GD&T, VE/VA, PPAP, and Control Plans an asset.
Work Experience
Minimum 2 years of product engineering experience.
Experience dealing with customers and suppliers.
Skills and Competencies
Excellent organizational, problem solving and decision making skills, negotiating skills along with the ability to handle stressful situations professionally.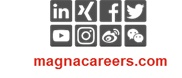 Deadline for applications: 26.06.2019.
Magna Seating d.o.o. Odžaci
Kompanija Magna Seating je otvorena u Odžacima 2012. godine, i od tad proširuje proizvodnju kombinujući duh inicijative i vrhunsku operativnost, sa brigom o pojedincu, društvu i životnoj sredini. Verujemo da je ključ našeg uspeha zapošljavanje motivisanih ljudi, sa različitim talentima, obrazovanjem i iskustvom. Sa pravim ljudima na pravom mestu, očekujemo da ćemo i dalje biti prvi izbor našim kupcima. Ovakav pristup, u kombinaciji sa našim vrednostima, čine našu kompaniju odličnim mestom za rad.
Više o poslodavcu