Program Assistant
Belgrade
13.06.2019.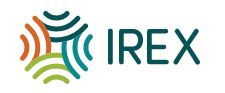 LEARN TO DISCERN SERBIA, implemented by IREX Inc.
is looking for
PROGRAM ASSISTANT
Belgrade
ABOUT IREX
IREX is an independent nonprofit organization dedicated to building a more just, prosperous, and inclusive world by empowering youth, cultivating leaders, strengthening institutions, and extending access to quality education and information.
POSITION SUMMARY
The Program Assistant provides administrative support to Learn to Discern (L2D) in Serbia. In partnership with American Corners, the program has adapted IREX's Learn to Discern (L2D) training curricula to build citizen media literacy through trainings of trainers and cascade trainings across Serbia. Learn to Discern is IREX's approach to media literacy which employs a hands-on training methodology to build critical information consumption skills, so that people are better able to identify manipulation, distinguish disinformation from facts, and engage with and responsibly share content across various forms of media.
The Program Assistant, based in Belgrade, supports the Learn to Discern Program Manager in program administration.
DUTIES AND RESPONSIBILITIES
Provide administrative and logistical support to Learn to Discern - Serbia
Track a wide range of information and data, maintaining accuracy and completeness
Coordinate events, including organizing materials, venue, catering, participant travel, etc.
Support program participants, including outreach, monitoring, and mentoring
Contribute to project monitoring and evaluation, tracking results to inform project implementation
Contribute to communications and reporting
Support consultant management, including drafting scopes of work and collecting deliverables
Process and maintain financial records
Contribute to and maintain social media pages
Other duties as assigned
SKILLS AND EXPERIENCE
Experience with and interest in media, journalism, communication, media literacy, and/or formal and nonformal education in Serbia preferred
Knowledge of and experience with program and event management
Experience in training and facilitation preferred
Excellent attention to detail and organizational skills, including ability to prioritize and multi-task
Excellent writing, editing, and oral presentation skills
Demonstrated computer skills
Excellent cross-cultural and interpersonal communication skills
Ability to communicate professionally and provide written reporting in both English and Serbian
PHYSICAL DEMANDS
Tasks involve some physical effort, i.e. some standing and walking, or frequent light lifting (2.5-5 kg.); or minimal dexterity in the use of fingers, limbs, or body in the operation of office equipment. Tasks may involve extended periods of time at a keyboard
Extended period of sitting at a workstation or desk. Manual dexterity to work efficiently on a computer keyboard
Task requires:

Sound perception and discrimination
Visual perception and discrimination
Oral communications ability
After September 30, 2019, this position is contingent upon pending funding.
WORK ENVIRONMENT
All employees are responsible for their own safety, as well as that of others in the workplace. To help us maintain a safe workplace, everyone must be safety-conscious at all times. This position is performed in a typical office environment. The noise level in the work environment is usually quiet to moderate. While performing the duties of this job, the employee is occasionally exposed to moving mechanical parts and vehicles. Safe use of IREX equipment, as well as safe practices while on IREX property is essential
DISABILITY SPECIFICATIONS
IREX will make reasonable accommodations in compliance with the Americans with Disabilities Act of 1990, and the Americans with Disabilities Act Amendments of 2008.
Please send your applications, CV and cover letter in English electronically by 13.06.2019.
Only short-listed candidates will be contacted.
IREX Srbija
SRBIJA, Beograd, Francuska 17/Ap
PIB: 110325204
Matični broj: 28880162
Više o poslodavcu