Purchasing Coordinator
Beograd, Pećinci
04.12.2021.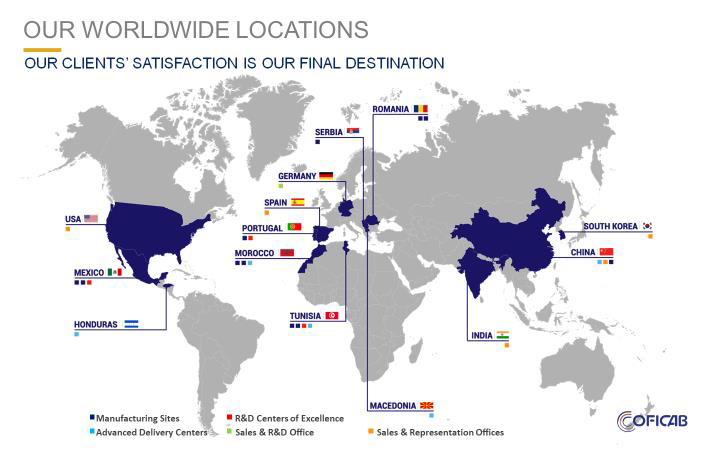 Purchasing Coordinator
About us
COFICAB is a best-in-class world leader in the manufacturing and sales of automotive cables and wires. The company is a member of the Tunisian multinational industrial group, ELLOUMI Group, founded in 1946. COFICAB Group's footprint expands over 11 countries all over the world. The group is number 1 worldwide in its capacity as a tier 2 supplier to most of the big players in the automotive industry.
Job Purpose:
Our purchasing team located on our production site 40km from Belgrade needs support from new Purchasing coordinator (transportation is organized). As Purchasing Coordinator your job purpose is to carry out and coordinate indirect local purchasing activities and operations (excluding raw materials), such as sourcing, requisition, purchase ordering, follow up of expedition and receiving, purchasing contracts management and complaints management in line with company policy in order to meet defined objectives in terms of costs, deadline, quality and quantities.
Your Key Challenges are to:
Assure suppliers Market intelligence in line with Coficab's sourcing strategy (Cost saving, Risk management, Plants requirements, etc.). Conduct suppliers' qualification process, requests for information (RFI), requests for quotations (RFQ) and updates of suppliers Master Data.
Negotiate contract or agreements terms and conditions with local suppliers, prepare or review draft version of contracts or agreements and follow up their validation and signature according to the predefined purchasing authority matrix and approval process. Create approved contracts on the ERP and archive the original (signed) paper version.
Review purchase requisition (PR) completeness and identify suppliers shortlist to be consulted (Master data). Send RFQ to suppliers, monitor quotations reception, develop and validate the comparative statement and follow up the final suppliers' selection according to predefined purchasing rules.
Transform PR into Purchase Order (PO), initiate and follow up PO approval according to the predefined purchasing authority matrix and approval process. Issue PO and send it to supplier. Monitor confirmation reception and check their compliance with issued PO.
Arrange transportation of goods and follow up with suppliers for delivery confirmation.
Participate with the suppliers in the complaints process in line with the predefined procedure. Define and follow up the implementation of adequate actions according to agreement with suppliers.
Prepare, communicate and review Local purchasing KPI's and define accordingly continuous improvement plans of processes, procedures and systems to meet the purchasing department and the Company's objectives.
Educational Requirements:
Degree in Business administration, management or finance
Required Experience:
1 year preferably on similar position
Language & Software skills:
Fluency in English language is a must. Knowledge of other foreign language would be a plus
Excellent MS Office Software skills (Excel, Words, PPT), handling of respective apps
Required Skills
Well organized, accurate, punctual, proactive and energetic
If you feel you're the right candidate for the role please click 'apply' now! We'd love to hear from you!
Coficab Serbia d.o.o.
Srbija, Deč, Selište 3
PIB: 109323635
Matični broj: 21161675
Više o poslodavcu