Quality Process/ Product Specialist
Beograd, Pećinci
29.01.2022.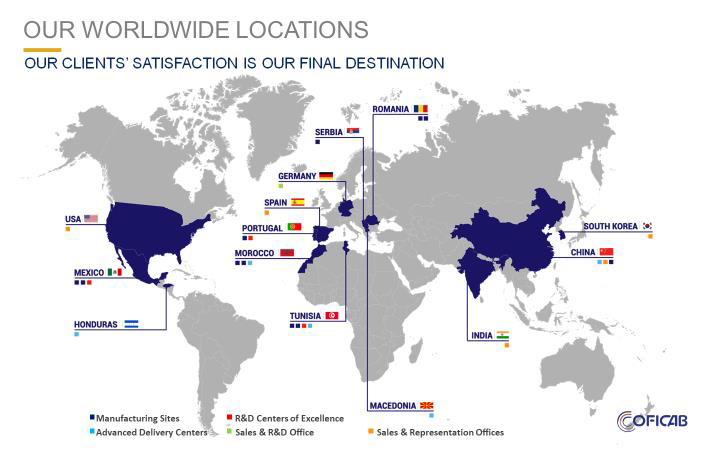 We are pleased to announce you that we have the following open position
Quality Process/ Product Specialist

Job location: Pećinci, Beograd

About Coficab

Coficab is a global leader in design, production and sales of cables and wires in automotive industry.

Coficab has built a global presence expanding sustainably through well designed network of R&D centres and sales offices around the world.

Coficab operates on all 4 continents and in 10 different languages.

Coficab promotes commitment, team work, passion and reaching high ethical standards as basis of its company culture. (as company values)

Coficab is focused on becoming employer of choice that has a strong and successful team.

Coficab employs over 3000 people worldwide. We excel at finding and continuously developing outstanding talent.

Coficab is keeping up with the constant evolution of the automotive industry, by developing specialty cables in many areas. We have our e-COF line for electric and hybrid vehicles applications, our COFData line of cables for connectivity, we have our COFSENSE cables for autonomous driving purposes, and we even have smaller and lighter cables for space and weight reduction applications, these are called COFSkinny and COFAlu.




Coficab designs and manufactures the cutting-edge cables and wires for tomorrow's cars.
Job description
Job Purpose:
As our Quality Processes/Product Specialist your job purpose is to maintain, coordinate and apply control plans, instructions and suitable methods necessary to assure the product conformity. Monitor the process parameters during all the different steps of production according to the definitions (cable definitions, instructions).
Your Key Challenges are to:
Assure the good application of Auto Control Plan by leading a team of quality verifiers in the laboratory and shop floor; performing trainings, audits, test and verification plans by sampling according to the predefined frequencies

Identify and isolate nonconformed semi-finished and finished goods. Conduct nonconformity root causes analysis, identify and undertake necessary actions and containment plan to avoid nonconformity recurrence

Follow up all the activities related to rework process. Conduct root causes analysis defaults, propose and undertake necessary actions and containment plan

Oversee process control and daily audit activities and assure the well application of the appropriate process/product parameters according to the predefined instructions and process audit check list

Conduct process parameters deviation root causes analysis, manage deviation requests for process parameters change if needed and undertake necessary actions and containment plans

Review and analyze obtained results. Propose and implement immediate corrective actions by deploying Fast Problem-Solving technics and follow up its realization status and effectiveness. Monitor shift product control reports

Assure the well keeping of test equipment and the organization and cleanness of the work areas under 5S standard, while respecting defined flows, locations and storage conditions

Plan, prepare, communicate and review Quality KPI's and defines accordingly continuous improvement plans of processes, procedures and systems to meet the Quality Department and the Company's objectives

Stop the production in case of non-conformity and take appropriate decisions according to the non-conformity product treatment procedure. Participate on the Recruitments and Develops a high performing Quality Team. Comply with the Quality and EHS Systems requirements. Comply with corporate values, code of conducts and non-disclosure agreement.
Educational Requirements:
Bachelor's degree in industrial and technical fields is a must.
Required Experience:
1-2 years in Quality Process/Product Management (automotive sector is desired)
Skills required to perform the job:
Knowledge about quality standards and system regulations (IATF...), manufacturing processes and associated technologies, process improvement techniques, audit techniques, quality tools (FMEA, Root Cause Analysis, etc.), continuous improvement techniques, analytical and problem-solving skills, project management, risk management.
Language & Software Skills:
MS Office Software (Excel, Words, PPT) and MES, ERP applications

English is a must.
Behavioral Competencies:
Communication, building relationships, self-development, managing performance, personal effectiveness, business skills, leading people, developing others.
If you feel you're the right candidate for the role as our Quality Processes/Product Specialist then please click 'apply' now! We'd love to hear from you!
COFICAB SERBIA DOO DEČ
COFICAB je svetski lider u dizajnu, proizvodnji i prodaji električnih žica i kablova za automobilsku industriju, kućne aparate, medicinske i industrijske primene. COFICAB GRUPA COFICAB, koji je član Elloumi Grupe, je osnovan 1992. godine, u Tunisu. Danas ima 15 modernih lokacija, širom sveta, i na čelu je globalnih megatrendova: E-mobilnost, Konektivnost, Autonomna Vožnja... COFICAB ima širok portfolio proizvoda, koji uključuje visoko-naponske kablove, kablove za prenos podataka, senzorske kablove…
Više o poslodavcu