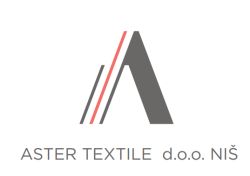 Aster textile was founded in Turkey in 1993, and today is one of the world's leading multi-product textile companies. From our Istanbul and London business development centers, our complete owned manufacturing facilities in Turkey and Serbia, to our investment partnerships in the Far East, we strive to provide the best in creativity, innovation and quality as well as the most flexible service to our many international clients.
For our factory located in Niš, Aster textile announces an ad for a new member of the HR team for the position:
Recruitment Specialist
Niš
Main assignments and responsibilities:
Organizing an effective recruitment process (drafting ads, establishing a recruiting plan, recording job applications, updating a candidate pool, working with recruiting agencies and the National Employment Service, finding and hiring indirect and direct workers within the given deadline);
Continuous monitoring and analysis of the labor market;
Collecting documentation from candidates who will be recruited, ensuring their completeness and accuracy;

Conducting the new employees training on the Rules of Conduct and the Rules of Procedure;
Organizing the evaluation of new employees, with the support of a training team;
Organizing exit interviews and other processes related to the termination of employment of employees;
Preparing and analyzing absenteeism and fluctuation reports, on a daily and monthly basis;
Updating the site on social networks in order to better inform the public and employees about the company's activities;
Preparing appearances at employment fairs;
Supporting the process of researching employee opinions;
Ensuring that all recruiting documents are updated in line with changes and in accordance with applicable laws and business needs and all projects organized by the human resources sector;

Support the HR team in the area of administrative affairs.
Required qualifications:
VII degree of vocational education, social orientation;
Excellent knowledge of English;
Excellent knowledge of Microsoft Office suite (Word, Excel, PowerPoint, Outlook);
Work experience in the HR sector is desirable;
Previous work experience in a manufacturing company is desirable.
Deadline for applications: 25.01.2020.