Regional Manager
Beograd
27.02.2021.


Our client Winterhalter is a family owned business founded over 70 years ago, having specialized in the production of high-quality systems and solutions primarily for the catering, hospitality, hotel and other food related industries. The group has around 2.000 employees worldwide in over 40 subsidiaries with a global turnover of more than 330M €. We have been assigned to search for the succession of the
Regional Manager
as designated Managing Director (m/f)
for their subsidiary in Serbia, counting 11 employees and being leader on the Serbian market. Furthermore, the regional responsibility includes some neighbouring countries which are organisationally attached to Serbia.
Responsibilities:
Lead the operations of the subsidiary and set the overall strategic direction for the Serbian market
Being the operational Sales Manager at the same time s/he is in charge of the positive development of sales results, processes and methods
Further develop the company's business model
Consolidate market leader position by increasing the presence, brand awareness and further developing sales and service structures
Co-operate with the Technical Service Manager in further improving the technical and after-sales business processes
Together with the Finance department, set budgets, forecasts, and periodically assess the subsidiary's financial performance and take appropriate actions accordingly
Further increase efficiency of processes
Ensure reporting and follow-up on the KPI's to measure and improve performance in all areas
Represent the company towards the market, the employees and the local authorities
Ensure periodical reporting of results to the Group's Board of Director
Requirements:
Proven experience in operational sales
Experience with (or potential for) general management role
Knowledge within the Food service industry or similar industries in B2B environments is of advantage
Good understanding of technical products
Strong knowledge of general sales discipline and methodology
Excellent negotiation skills, ideally with experience in a dealer/direct sales combination business model
A proven successful track record, meeting or exceeding sales objectives
Proactive, solution oriented and entrepreneurial mindset with a can-do attitude
Strive for excellence and high-quality service delivery
Ability to work under pressure
Expert with all Microsoft Office applications
Fluency in English or German and Serbian is a must
Winterhalter offers a challenging and demanding position within international environment along with the opportunity to fully express your sales and management competences.
If you believe that your experience and skills set would make the expected contribution, please send your CV in English, exclusively to our e-mail address, with full confidentiality.
Hill International, Beograd, Ruzveltova 45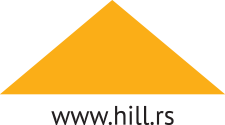 HILL International d.o.o.
Srbija, Beograd, Ruzveltova 45
PIB: 101011936
Matični broj: 07514395
Više o poslodavcu