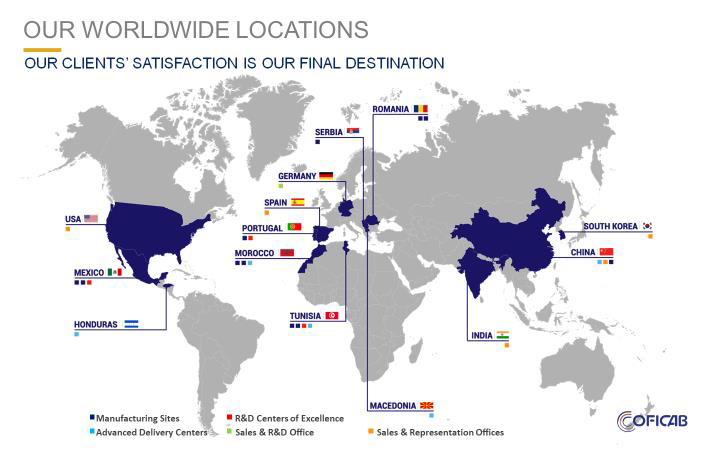 Regional Quality Manager
Šimanovci, Belgrade
Job Purpose:
As our Regional Quality Manager your job purpose is to implement corporate Quality vision, strategy, policies and procedures in line with corporate strategy in all the plants from the region. Provide leadership for quality activities within the region in terms of system implementation, process control & monitoring and product safety assurance. Guarantee high level of customer satisfaction through problem solving improvement programs and drive related audits in accordance with Coficab System, standards, OEM's and customers' requirements and specifications. Represent the customers and the management inside all Coficab entities and has the authority to stop the production in case of non-conformity and take appropriate decisions for existent nonconform products.
Your Key Challenges are to:
Implement regional quality strategic plan in line with Quality and Coficab strategy. Contribute to the definition of the system and assure the implementation of Quality policies, procedures and organizational structure in the region, in order to meet company's objectives in terms of quality in accordance with OEM's standards and customer requirements
Support regional Coficab entities regarding new plants or lines start-up such as new recruits training, process monitoring & product safety assurance activities according to internal and customer's specifications & standards
Assure the application/respect for the standard control plans, related instructions and methods in accordance with Quality & customers requirements, standards and internal specifications
Monitor deviation requests management regarding product nonconformity and process parameter's change
Consolidate and follow-up regional customer evaluations through scorecards, visits, workshops, surveys, etc. Communicate feedbacks and evaluation results to concerned parties and assure action plans timely definition and implementation in the region
Enhance the customer satisfaction by ensuring proactive support for problem solving, improvement programs and regular review of customer's claims status communicated by the sites
Apply the products conformity surveillance plans on region and define correspondent improvement programs in case of major deviation, involving all stakeholders in concerned Coficab entities. Set relevant actions to be standardized for the group and assure their implementation
Establish, coordinate and communicate regional audits planning and monitor or perform its realization. Issue, communicate and monitor action plan effective and efficient implementation
Review and communicate the Quality KPI's and define accordingly continuous improvement plans of strategies, policies, processes, procedures and systems to meet the Quality Department and the Corporate's objectives
Stop the production in case of non-conformity and take appropriate decisions according to the non-conformity product treatment procedure. Recruit and develop a high performing Regional Quality Team. Comply with the Quality and EHS Systems requirements.
Educational Requirements:
Master's degree in Quality Management/Assurance, manufacturing engineering, industrial and technical fields (mechanic & electric)
Required Experience:
5 years in similar position in industrial environment
Skills required to perform the job:
Core business wire manufacturing processes and associated technologies, Quality & EHS standards, Laboratory Quality management system, Quality Management system, Automotive standards & norms and OEM's requirements, Hygiene and safety procedures, Internal & external audits techniques, Continuous improvement techniques (PFMEA, Synoptic, SPC,MSA, Root Cause Analysis, etc.), Analytical and problem solving skills, Budgeting & Cost estimating, Project Management, Risk Management, Customer relationship management.
Behavioral Competencies:
Communication, building relationships, self-development, managing performance, personal effectiveness, business skills, leading people, developing others.
If you feel you're the right candidate for the role as our Regional Quality Manager then please click 'apply' now! We'd love to hear from you!
Only the shortlisted candidates will be contacted.
Deadline for applications: 14.02.2020.