Sales Specialist
Beograd, Šimanovci
25.05.2019.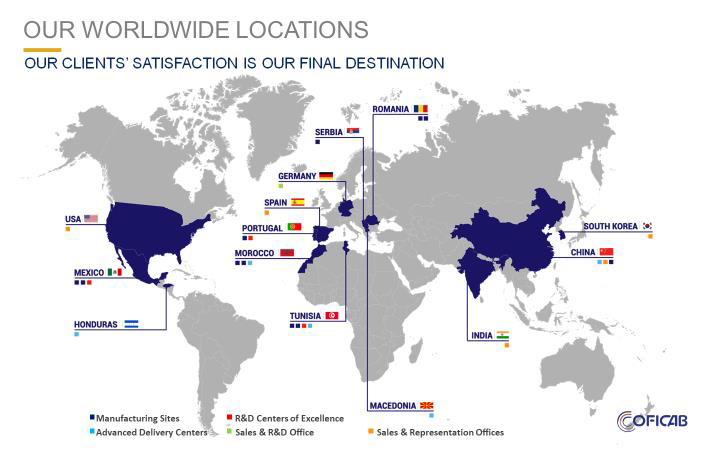 Sales Specialist
About us
COFICAB is a best-in-class world leader in the manufacturing and sales of automotive cables and wires. The company is a member of the Tunisian multinational industrial group, ELLOUMI Group, founded in 1946. COFICAB Group's footprint expands over 11 countries all over the world. The group is number 1 worldwide in its capacity as a tier 2 supplier to most of the big players in the automotive industry.
Job Purpose:
As our Sales Specialist your job purpose is to maintain market intelligence on competitors' development strategies and customer demand trends, promote Coficab's brand and execute sales strategy in line with the company's business development objectives and market characteristics and trends; manage and develop effectively customers portfolio at a specific level.
Your Key Challenges are to:
Identify and investigate potential customers & new products, participate closely with R&D teams in the development of business cases for new projects & initiatives and follow up its technical and financial feasibility studies
Provide data for the bidding process by collecting relevant information such as raw material costs, product availability on the market and applicable prices, thorough completion and processing of tender documents with involved departments and follow up its submission
Participate in developing local sales strategy based on regional and global market research to generate business opportunities, prioritize target markets and execute sales strategic plans by tracking key tendencies of market evolution
Participate to customer & product forecasts set up, monitor its reliability and ensure update on a monthly basis. Communicate timely established forecasts and coordinate closely with sales and purchasing teams to meet optimal copper fixation
Ensure an efficient customer service operation to respond to customer needs and complaints by providing proactive and effective support to quality and logistics departments in order to enhance customer satisfaction.
Prepare, communicate and review sales KPI's and define accordingly continuous improvement plans of processes, procedures and systems to meet the company's objectives.
Educational Requirements:
Bachelor's degree in Economics or Engineering, Master degree would be a plus
Required Experience:
2-3 years in sales, preferably in automotive industry (wire production)
Skills required to perform the job:
Knowledge about core wire manufacturing processes and environment, quality and EHS standards & systems, commercial contract management, supply chain synchronization, basic finance, negotiation & decision making, customer relationship management, forecasting processes, analytical and problem-solving skills, budgeting & cost estimating, project management, risk management, business communication techniques
Language & Software Skills:
Excellent English language is a must. Knowledge of German, French or Italian would be a plus
Excellent MS Office Software skills (Excel, Words, PPT), knowledge about ERP and CRM applications is desired
Behavioral Competencies:
Communication, building relationships, self-development, managing performance, personal effectiveness, business skills, leading people, developing others.
If you feel you're the right candidate for the role as our Sales Specialist then please click 'apply' now! We'd love to hear from you!
Only the short-listed candidates shall be contacted.
Deadline for applications: 25.05.2019.
Coficab Serbia d.o.o.
SRBIJA, Pećinci, Selište 3
PIB: 109323635
Matični broj: 21161675
Više o poslodavcu