Senior Data Engineer
Beograd
27.08.2022.

There are 999 reasons
to become a levi niner.
We are looking for an:
Belgrade
We empower out people to grow and excel! You will be part of the team working on a challenging and interesting project in international setup and you will have the opportunity to work on modern web applications and services.
PROJECT, TEAMS, REQUIREMENTS & DUTIES
What you will be working on?
Create and maintain optimal data pipeline architecture
Research and validation of entity data using appropriate internal and external data sources
Build the infrastructure required for optimal extraction, transformation, and loading of data using SQL and 'big data' technologies
Developing and implementing data analyses and data collection systems
Work with data and analytics experts to strive for greater functionality in data systems
Collect and maintain the set of business requirements
What do we expect from you?
A passion for data interpretation and a highly numerate capability with great attention to numeric detail and accuracy
An ability to research and source information from a multitude of areas
Strong analytical skills with the ability to collect, organize, analyze, and disseminate significant amounts of information with attention to detail and accuracy
Strong Python knowledge
SQL proficiency
Experience in ETL tooling/concepts
Working experience with cloud technologies, preferably GCP
Familiarity with big data technology stack (Apache Spark, Kafka, RabbitMQ, dbt)
Nice to have:
Have experience with orchestration of data pipelines - preferably using Apache Airflow
Professional DWH experience (Snowflake, Redshift, BigQuery)
Familiarity with infrastructure as code using Terraform
Familiarity with Unix/Linux, Docker, Kubernetes
Experience with any visualisation tool (QuickSight, Tableau, PowerBI…)
Our projects & stack: The application that you will work will be in python, scala, AWS cloud/service, spark, pandas etc. We are building data pipelines, data lakes, API service to support data scientist and BI reporting.
Our teams: Depending on the project setup, our teams can consist of data engineers, scientist, backend developers, test developers, DevOps engineers and a delivery manager.
Your position in the organization: This position will be a part of one of our Data departments in Belgrade and your department manager will be there to guide you and support your career development.
WHY TO CHOOSE TO WORK FOR LEVI9?
Remote work during COVID-19 pandemic
The most important for us is that all Niners are safe and healthy. Since the beginning of the pandemic, we all work from home (or any other place we like). We will maintain this trend until the circumstances become safe. There is also possibility to work from office on daily basis.
Flexible start of your day
The start of working hours is flexible. You are free to start working at any time with respect to daily duties and pre-agreed obligations.
Levi9 will pay in full (full salary) a total of 10 days of sick leave per year, including 3 days of sick leave per year without a doctor's prescription. A total of 3 days of paid sick leave without a doctor's prescription can be used separately or in combination during the year.
All Niners have additional UNIQA private insurance – MedUniqa as soon as they join Levi9. This private insurance is fully paid by Levi9 and is renewed annually. Also, there is a possibility of additional insurance for a family member. Our insurance package covers 5.000 € costs. The Uniqa package also includes insurance against the consequences of an accident, 24 hours a day during the agreed duration of insurance, without territorial restrictions.
Personal development plan
We care about your development. Every Niner creates own career development plan on an annual basis under the mentorship of his manager.
Levi9 is the place where you can develop yourself in every phase of your career, so we created Levi9 Academy to provide you with all resources needed to advance. Levi9 Academy covers different programs, trainings, platforms with useful materials and resources. You will have the possibility to learn though various channels, using different methods to be prepared for the next steps in your career development.
Free access to Udemy for Business platform
Udemy for Business is the part of our Levi9 Academy. You can listen to every course available on Udemy platform using personal Levi9 credentials, available wherever and whenever you want.
We have a master's degree in work-life balance.
We are committed to learning, as you can see. There are team budgets that support this mission by giving an opportunity to employees to be certified in desired areas and to attend various professional conferences.
Vacation days loyalty program
At the beginning of your work engagement in Levi9, you will get 23 days of annual leave. After 5 years of working in the company, the number of days of annual leave will increase to 26, after 10 years to 28, and after 15 years, to 30 days. This is our thank you for being loyal to us.
Personalized wellbeing package
To support Niners in their tendency of healthy and well-balanced life habits, we decided to create personalized wellbeing packages. At the quarterly level, every Niner can decide on the package that suits him best in the field of health, sports, and culture.
Understanding the different circumstances in which Niners do business daily has led us to, in addition to the ability to pick up equipment from the office, also provide the ability to buy the equipment that would suit more. That way, everyone will be able to choose the equipment for their home office according to their personal affinities.
This program is designed to bring together all business partners with whom we have a discount agreement on services or product (various restaurants, shops, foreign language schools, gyms…). As a Levi9 employee, you will receive a card that is used as an identification for a discount.
Family members are extended Niners's community. We design many activities you can enjoy with your partner and kids e.g. company parties, Movement CSR action, tailored-made kid's workshops to celebrate NYE, gifts for holidays, vouchers to welcome new baby… and there is a possibility to include family members in private health insurance plan on favorable terms.
There are special days in life when the attention should not be divided. This is why we have special policies for additional days off on the occasions such as weddings, moving, the day your child enrolls in elementary school, etc.
Reason #600
You work with like-minded techies
LEVI9 CULTURE
The Levi9 culture is all about empowerment.
After all, you are the one with the talent.
You are the one making the difference every day.
You are Levi9. You have the power.
At Levi9 we believe that trust empowers you to be proactive.
Having one common goal empowers impact.
Freedom empowers creativity.
And well... a bit of magic empowers fun.
Empowerment for us is all about listening and asking questions.
Not about telling you what to be or become.
That means there are no levels of empowerment at Levi9.
From the day you start to the day you leave, Levi9 will empower you.
We'll provide you with an education, challenges, a voice and a stage on which you can share your successes.
We believe empowerment is as close to a superpower as it can get. It elevates people. Gives them trust.
We will do whatever is needed to empower you, your team and the entire organization.
You also have the power to empower others.
Your colleagues, your projects, your customers.
You empower us and give us the energy to be the best employer out there providing challenging projects, a great education and loads of possibilities.
At Levi9 we don't employ. We empower.
ONLINE RECRUITMENT PROCESS
During the COVID-19 pandemic we are working fully remote, and recruitment processes are also taking place online. Depending on different roles there are slight differences, but you can expect process that include CV review, phone call, HR interview, test, and technical interview.
Usually, this is how online recruitment process looks like:
CV REVIEW
PHONE CALL
HR INTERVIEW
TEST
TECHNICAL INTERVIEW
FINAL DECISION
ONLINE ONBOARDING
We meet in unusual circumstances, but we believe that it will not stop us from making the beginning of the Levi9 adventure as pleasant and easy as possible. Online onboarding is a project we are especially proud of.
What you can expect?
Your work equipment will be ready before your start day, so you can pick it up earlier and be ready for beginning. And maybe some presents on top! :)
You will get links for the pre-onboarding reading to get to know us better.
Before start date, we will present you in detail how your first workday will look like, so on that day you can just login and start meeting with your colleagues.
On the first day you will get insight in our employee handbook designed to make onboarding easier.
There is also our intranet for fresh company news.
And the most important thing – you will get a support system aka your buddy (colleague that will take care of you at the beginning), your Department Manager and dedicated Talent Partner.
And much more, but let's leave something for later!
gET TO KNOW US, STAY UPDATED, AND REACH OUT
If you have additional questions, please feel free to contact us!

There are 999 reasons to become a levi niner.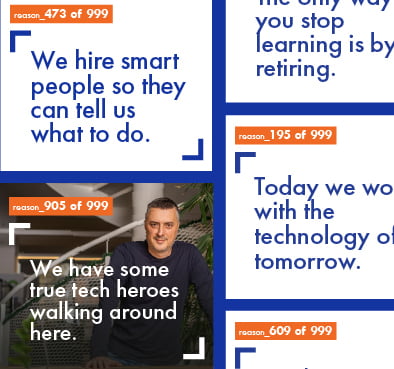 Levi9 Technology Services
Jula 1994. godine kometa je udarila u Jupiter i omogućila da se po prvi put posmatra direktan sudar dva objekta u Sunčevom sistemu. Udarivši u Jupiter, kometa Shoemaker–Levy 9 izazvala je eksplozije jače od ukupnog nuklearnog arsenala na Zemlji i ostavila za sobom kratere prečnika Zemlje. Sa vizijom uticaja sličnih razmera na IT tržište, aprila 2005. godine osnovana je kompanija Levi9 Technology Services. Levi9 je servisna kompanija koja pruža usluge razvoja, implementacije, održavanja i testiranja ... Saznajte više
Iskustva zaposlenih
"Sve je počelo u martu sada već davne 2018. godine kada sam odlučio da se više informišem o Code9 radionicama, a nedugo zatim se i prijavim.
Već na trećoj godini fakulteta imao sam priliku da ... " Pročitajte celo iskustvo
Beneficije
RAD NA DALJINU
KOMPANIJSKI POPUSTI
OBEZBEĐENA OPREMA ZA RAD
OBEZBEĐEN PARKING
HRANA I PIĆE
TIMSKA DRUŽENJA
ZABAVNI SADRŽAJ
WELLNESS
SPORT I REKREACIJA
RAD OD KUĆE
FLEKSIBILNO RADNO VREME
OBUKE, KONFERENCIJE
EDUKACIJA, PROFESIONALNI RAZVOJ
DOBROVOLJNO ZDRAVSTVENO OSIGURANJE
Više o poslodavcu