Senior/Technical Lead Engineer System Engineering - Automotive Traction Drives Slovenia
MAHLE Electric Drives Slovenija d.o.o.
Slovenia (Šempeter pri Gorici or Ljubljana)
21.05.2021.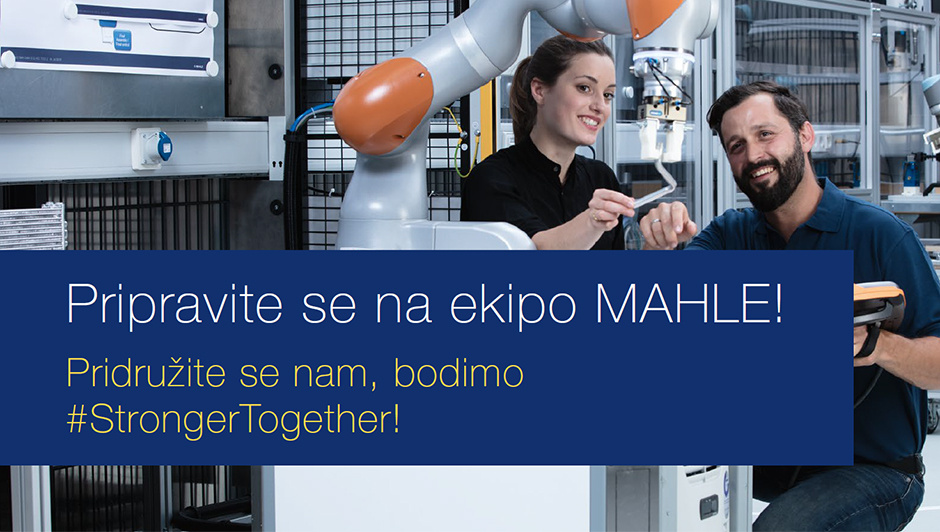 Job Profile: Senior / Technical Lead Engineer System Engineering - Automotive Traction Drives Slovenia (m / f)
MAHLE Electric Drives Slovenia d.o.o.
Location : SLOVENIA, Šempeter pri Gorici or Ljubljana
Let's go further, faster and be #StrongerTogether! We are more successful together, so you have the opportunity to become a star in our team.
Our passion has led us to the position of a leading international development partner and supplier in the automotive industry and a pioneer of the mobility of the future.
With the production portfolio, we address all critical issues related to the technology of propulsion systems and air conditioners - both for e-mobility and for propulsion with internal combustion engines.
Today, more than 79,000 employees work on innovative products at 160 production sites and in 16 development centre. Our goal is to create the mobility of tomorrow - let's be #StrongerTogether, so join our MAHLE team!
Your tasks and responsibilities


Technical lead of the systems engineering team for automotive traction drive systems in Slovenia
Responsibility for overall activities in the area of system engineering activities and also integrated systems (e-machine & electronics)
Co-development of standardized platform concepts and integration strategies for the automotive drive systems
Approval of system deliverables (requirements and system architecture) as well as change management on system level
Responsible for ensuring development progress on system level according to customer and legislative boundary conditions
Responsible for functional safety aspects on system level
Support in the definition of tests and evaluation of test results over complete R&D process
Ensuring proper technical documentation as required according to A-SPICE requirements as well as management reporting

Your skills and abilities


Proven experience in technical and optionally disciplinary lead in the area of international automotive business
Proven experience in automotive R&D processes according to A-SPICE
Proven experience in the area of systems engineering (system requirements, system architecture, system simulation, …) for automotive traction drive systems
Proven experience in the integration of electric traction systems
Proven experience in requirements and change management processes
Strong knowledge and experience in system testing and mechatronic product validation in automotive business
Master degree of Mechanical / Electrical Engineer
More than 5 years experience in automotive development (best case proven experience in systems engineering for automotive traction drive systems)
With the selected candidate we will enter into an employment relationship for an indefinite period, with full-time employment and a 6-months' probation period.
We invite you to send us a written application in English with a detailed curriculum vitae and proof of eligibility.
In addition to work in a great team, we encourage you to reach your personal potential and through outstanding learning and development opportunities. Exciting assignments and personalized support for your career are available to you.