Senior Magento 2 Frontend Developer
Beograd, Vojvode Savatija 25
10.01.2021.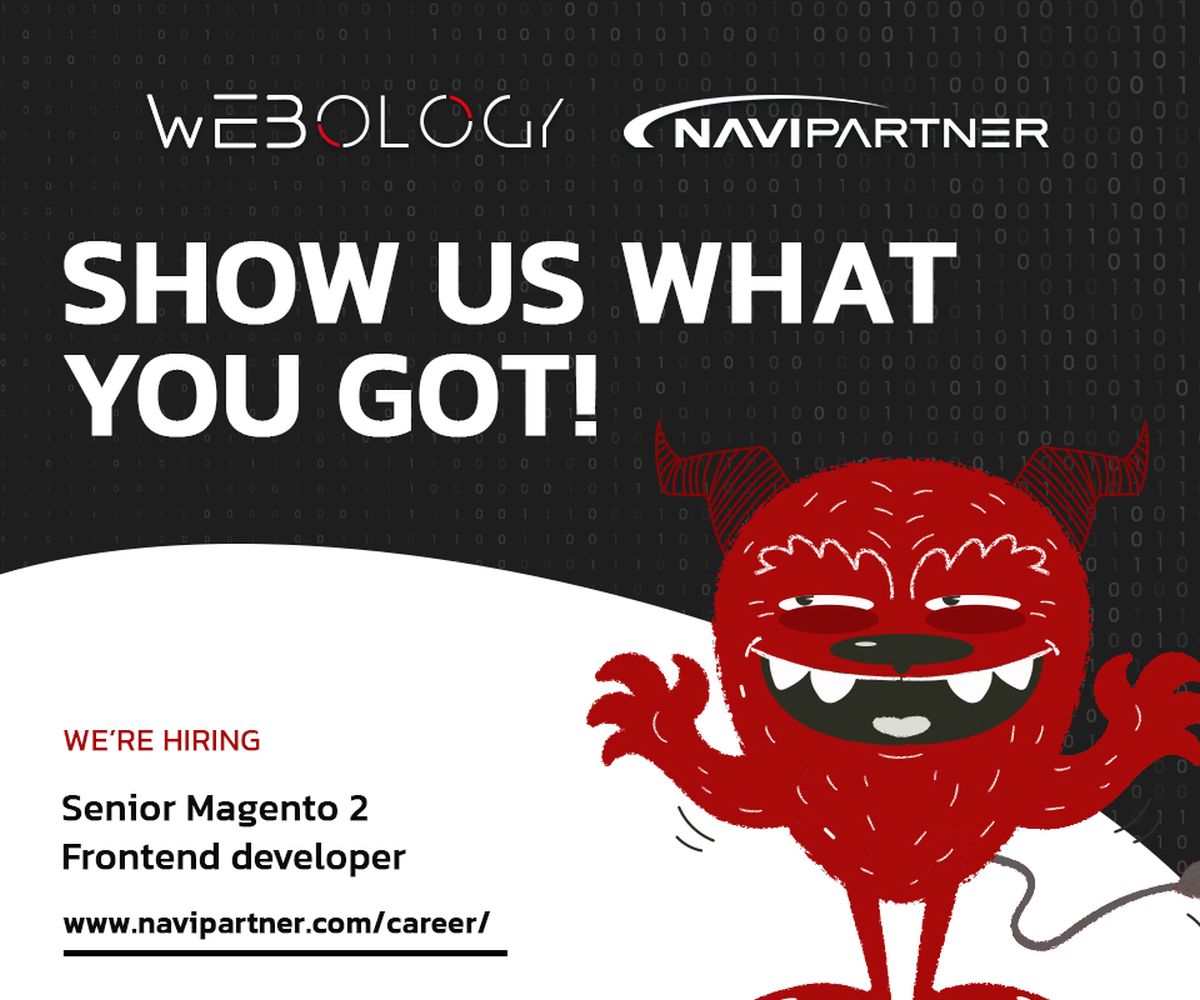 If you are an Awesome Magento 2 Frontend Developer that stands out from the crowd and wants to make great money working in an awesome company then keep on reading!
Who we are:
Webology d.o.o. is a young Serbian IT company based in Belgrade focused on developing amazing e-commerce solutions. Our clients are from all around the world, but the most of them are from Denmark, because our partner is NaviPartner Kobenhavn based in Copenhagen. NaviPartner is the 9th largest Microsoft Dynamics NAV Partner in the world out of around 4.000 partners. We are Microsoft Gold Certified Partner and became Microsoft Partner of the years 2007 and 2008.
NaviPartner is an ambitious, development company that provides Point Of Sales solutions, Web Transaction Platforms, and Hosting Services to the retail industry in Europe.
Webology and NaviPartner provide their employees a professional work environment, top motivated and friendly colleagues. We have Hikers, Runners, Video Game heroes, Board Game lovers, Musicians, Family, Single, Happy and every other variety of people.
What you will be doing:
You will contribute in driving our e-commerce product forward. You will work closely with the development leads to design, enhance and maintain the current and future web user interfaces. You will be responsible for translating web designs into code that will produce the visual elements of the web solutions provided by the company.
Requirements:
Experience with Magento 2 or any other e-commerce platform.
Experience with RequireJS and KnockoutJS
Good understanding of Magento 2 front-end concepts.
Passion for web technologies and trends.
Self-discipline in delivering tasks in a timely manner with deadlines.
Ability to deliver stable, high-performance and SEO-adhering front-end code.
Proficient understanding of web standards including HTML5 and CSS3.
Good understanding of server-side CSS pre-processing platforms, such as LESS and/or SASS
Excellent understanding of client-side JavaScript frameworks such as jQuery.
Experience with asynchronous request handling, partial page updates, and AJAX.
Experience with responsive web designs.
Good understanding of e-commerce design constraints.
Familiarity with source control tools including Git and SVN.
Methodological approach to troubleshooting.
Ability to quickly learn and use new tools and technologies.
Ability to multi-task and juggle priorities in a fast-paced, ever-evolving environment.
'Nice to have' skills:
Basic understanding of any Retail ERP.
Personal and professional requirements:
Good written and verbal communication skills; fluent English language skills.
Ability to work successfully both autonomously and as part of a team environment.
Well presented, driven and can think on your feet!

One more thing:

We're looking for a frontend developer that wants to build something great with a group of incredible people. If you enjoy a challenging and innovative work environment, then Webology and NaviPartner is the place to be!
Webology d.o.o.
Webology d.o.o. is a young Serbian IT company based in Belgrade focused on developing amazing e-commerce solutions. Our clients are from all around the world, but the most of them are from Denmark, because our partner is NaviPartner Kobenhavn based in Copenhagen. NaviPartner is the 9th largest Microsoft Dynamics NAV Partner in the world out of around 4.000 partners. We are Microsoft Gold Certified Partner and became Microsoft Partner of the years 2007 and 2008. NaviPartner is an ambitious, development…
Više o poslodavcu