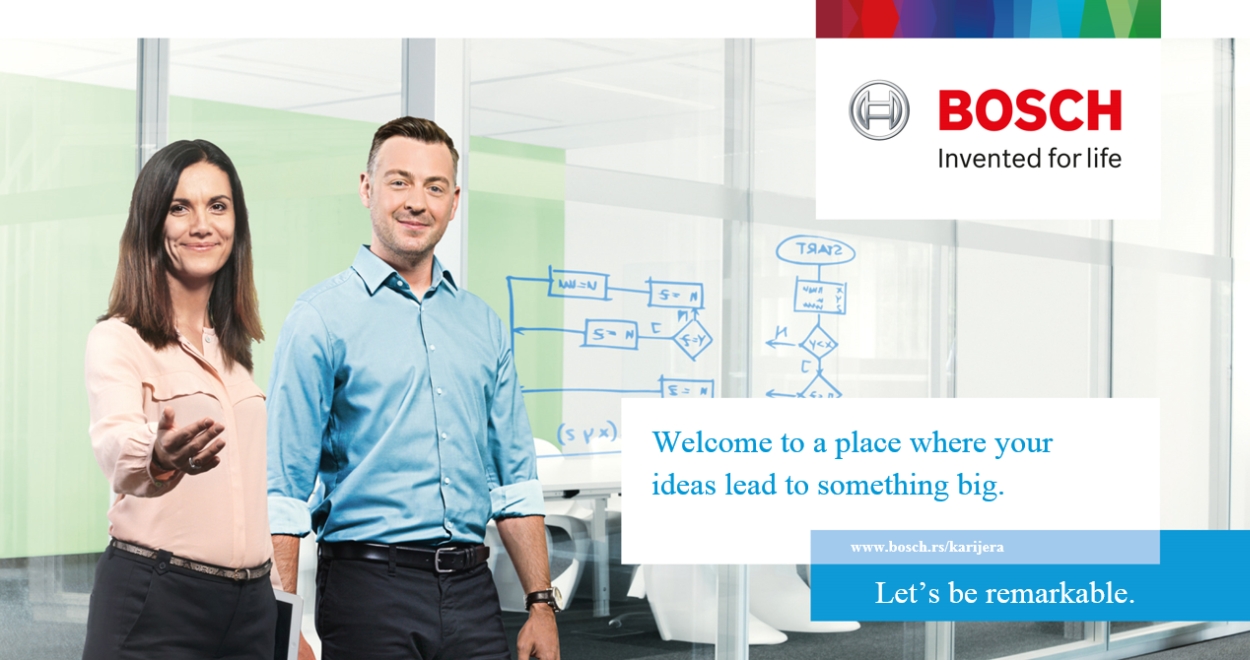 Start something big today. Apply now:
Agile Automation Tester
Company Description
Do you want beneficial technologies being shaped by your ideas? Whether in the areas of mobility solutions, consumer goods, industrial technology or energy and building technology – with us, you will have the chance to improve quality of life all across the globe. Welcome to Bosch. At Bosch, we develop, examine and enhance new systems, components and technologies. Our aim is simple – improving lives. Bosch has been present in Serbia since 1991. Today, Bosch in Serbia is active in three of the company's business sectors: Mobility Solutions, Consumer Goods, and Energy and Building Technology. The central areas at our Belgrade location develop and support the company's medium and long-term strategy, thus promoting a sustainable growth.
The Power Tools Division of the Bosch Group is the world market leader for power tools and power tool accessories. The Global Digital Unit is efficiently bundling digital activities across all Business Units of Bosch Power Tools.
We are searching for a new colleague to join the team, which will help us to reduce 11 legacy architecture to one target Architecture using new technology (Azure, AWS, Bloom reach, Elastic Search, etc.) stack based on cloud environments for our B2C application. Person who joins a team will have a chance to build automation tests for application that will host and operate a work of 1000 B2C ecommerce and websites worldwide.
Job Description:




► Writing and maintaining automated tests in Selenium (Java background)
► Preparing Test plans
► Using Git as a version control system
► Designing and executing system, regression and end to end acceptance tests
► Logging and categorizing issues in our defect management tool
► Providing clear and concise test and bug reports
► Attend all Scrum meetings and ensure the code is written with testing in mind
► Encouraging and improving close cooperation across all roles and functions within team
► Contributing to the coordination of design, solution architecture, implementation and release activities during complete duration of the project
► Suggest and implement improvements of current testing processes
► Working with other teams (internal) to ensure the highest possible quality of service and delivery

Qualifications:


► 2+ years quality assurance experience, experience in test automations is must
► Experience with continuous integration/delivery workflows
► Experience in coordination test activities with internal and external stakeholders (customer or internal users)
► Previous Experience within Agile (Scrum) organization is must
► Knowledge of JIRA or any other Agile tools is must
► Excellent and proficient usage of English language is must
► Previous experience in a project, product in a web development environment is plus
► Strong organizational and client management skills
► Self-motivation and a passion for learning new technologies
► Excellent communication and facilitation skills
► Previous experience with multicultural environment is plus
► Formal testing qualification such as ISTQB / ISEB CTFL is plus

Bonus points for knowing/using the following:

► BDD tools and environment is plus
► API Testing Postman
► Load and Performance testing using Jmeter
► Facilitation of interactions related to automation testing within the Team and between the Team and the Customer

Additional Information

Be part of the Bosch community | Self-development opportunities using training or conference formats suitable to you | International environment | Flexible worktime options | Inspiring working conditions
Make it happen.
If you believe you are the right candidate, please send your CV in English using Apply button no later than 14.02.2020. Only shortlisted candidates will be contacted. www.bosch.rs/karijera