Data Engineer
Inđija, Obilazni put Sever II
02.09.2021.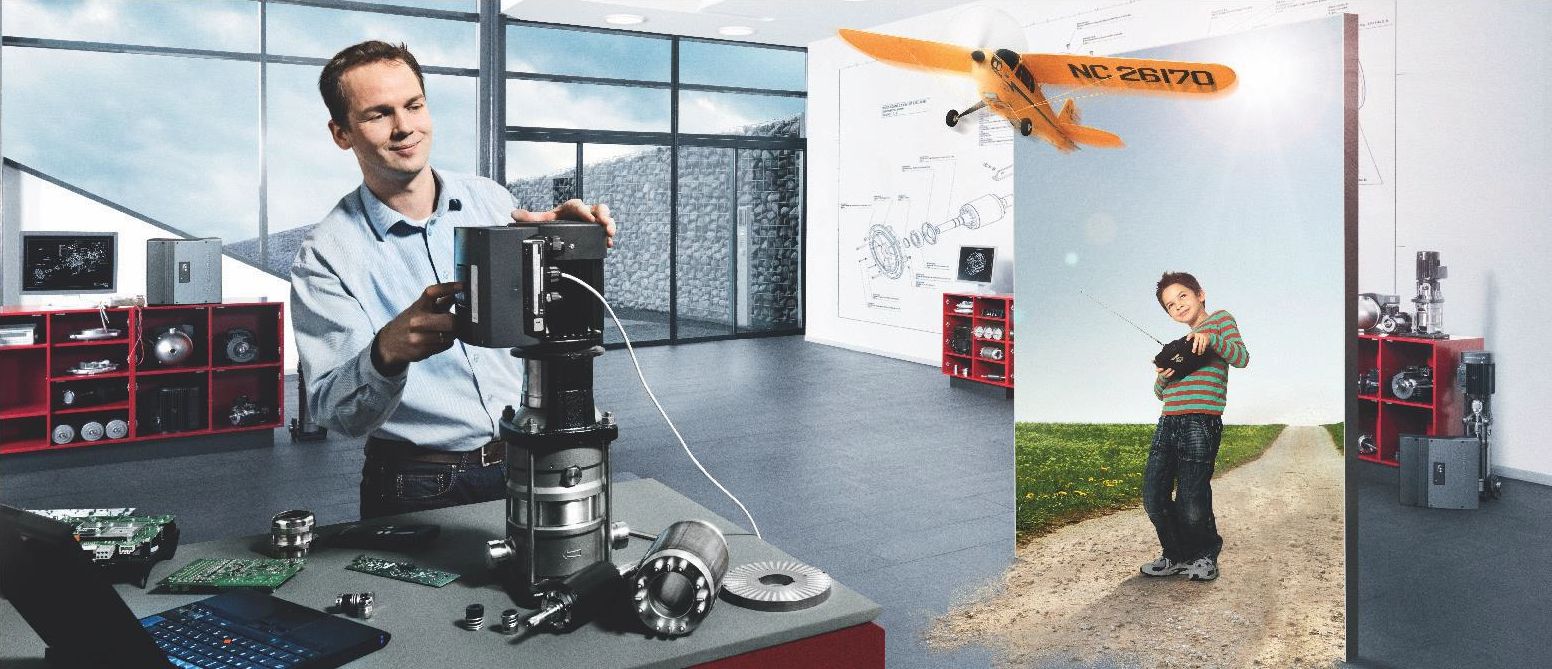 This is a unique opportunity to become part of the team that drives the digitalization of Operations at Grundfos globally. Taking offset in our Smart factory initiative, you will prepare data for analytical or operational use and take part in defining, developing and maturing data projects that will optimize our production methods for years to come.
Welcome to Grundfos and the Smart Factory
You will join the Advanced Manufacturing Engineering Data Department. Here, you and your colleagues develop and test advanced data solutions in the Smart factory, in parallel to scaling the solutions across the global production setup. Stepping into our global team, you join data specialists with complementary competences to make our data journey from connectivity to data utilization a success.
"The majority of your time you will spend on building the data pipelines with data ingestion, data integration and security. Putting the data in the right place at the right cost and quality is key to effectively utilize data to optimize our production and value chain. Doing so you will add value to our colleagues, customers and competitiveness," explains Director Simon Rosenberg Bolmgren.
Build and orchestrate data pipelines on big data projects
You will support our digitalization strategy by making our data flow from a variety of sources and make it accessible for those who need it, when they need it. Your knowledge of data modelling and your ability to orchestrate data pipelines makes you key in our ability to prove or reject various hypotheses based on data.
You will:
Facilitate new knowledge and insights by implementing new pipelines and provide easy access to existing data sources
Collaborate with the team on the journey towards effective utilization of our data in Operations
Interact with the production and value chain to build sustainable and effective data solutions
Participate in various digitalization projects as the data engineer with interfaces to project manager, the connectivity specialists, data analysts and data scientists
Promote reusability and make standardized pipelines
Apply the knowledge and ideas of your colleagues
Collaboration will be a big part of your daily work. You will be a part of a global team, that works in an agile way to implement the solutions together with the production and process specialist. Also, you will collaborate with our IT department, Data & AI team, as well as specialists and managers in the organization. Doing so, your work will uncover new possibilities for data projects, which you then mature together with your colleagues in the team.
Working Agile
The team is currently on an agile journey and if you are an experienced Scum Master there is an additional opportunity for you to contribute to the success of this transformation. Here we are looking for a good foundation of knowledge and a personality who enjoys enabling colleagues to succeed. This is not a prerequisite for applying
Detail-oriented data expert
It is not important whether you recently obtained your master's degree or have several years of experience. More importantly, you manage to make use of on the expertise and ideas of your colleagues to prepare and utilize data to benefit our production. Furthermore, you know your way around databases and how to code scripts. And you:
Hold a master's degree in SW Engineering, computer science or similar studies centred around data
Have experience in file based data processing, security in cloud platforms, pipeline architecture, data models, pipeline deployment, infrastructure as code
Know C#, SQL, Python and perhaps also R
Have experience working in Snowflake & Snowpipe as well as Azure Data Factory
Knowledge and preferably experience with different data storage types (Blob, data lake, Snowflake, MS SQL, NoSQL, Graph).
Knowledge of Connectivity, PLC, AI, including machine learning and deep learning is an advantage but not a prerequisite
Knowledge of the different data quality dimensions and how to apply them is an advantage but not a prerequisite
Take initiative, are self-driven and prepared to meet deadlines
Speak and write English effortlessly
Additional information
If you have questions or want to know more about the position, please contact Director, AME Digital Development & innovation, Simon R. Bolmgren on
If this job sounds appealing to you, please send your resume and cover letter today by clicking on "Apply".
We look forward to hearing from you.
If you want to dig deeper into the Grundfos universe and Factory of the Future, please see links:
Factory of the Future video: https://www.linkedin.com/feed/update/urn:li:activity:6526415887728156672
Grundfos on LinkedIn: www.linkedin.com/company/5195
Grundfos Srbija d.o.o.
Kompanija Grundfos počela je sa radom 2010. godine u Novoj Pazovi, dok se istovremeno radilo na izgradnji potpuno nove fabrike u Inđiji, koja je zvanično otvorena 2012.godine. Danas u Inđiji radi 800 ljudi, u izvozno orijentisanoj proizvodnji koja broji više od 30 proizvodnih linija i koja godišnje iz Srbije izveze preko 4 miliona pumpi na tržišta širom sveta.Grundfos u Inđiji proizvodi pumpe iz četiri različitih segmenata proizvoda. Cirkularne pumpe koriste se za grejne i sanitarne sisteme sa cirkulacijom ... Saznajte više
Iskustva zaposlenih
"U kompaniji Grundfos radim već osam godina. Počeo sam kao operater u proizvodnji, ali moja velika ljubav prema alatima i tehnici uvek me je inspirisala da se angažujem više, da svaki dan naučim nešto ... " Pročitajte celo iskustvo
Beneficije
DOBROVOLJNO ZDRAVSTVENO OSIGURANJE
OBEZBEĐEN PARKING
RAD OD KUĆE
KOMPANIJSKI POPUSTI
ZDRAVLJE
PORODICA I RODITELJSTVO
TIMSKA DRUŽENJA
EDUKACIJA, PROFESIONALNI RAZVOJ
ORGANIZOVAN PREVOZ
SPORT I REKREACIJA
ZABAVNI SADRŽAJ
HRANA I PIĆE
OBUKE, KONFERENCIJE
FLEKSIBILNO RADNO VREME
NAGRADE, BONUSI, POKLONI
Više o poslodavcu