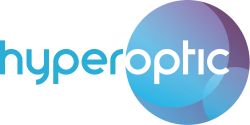 Creative Lead
Belgrade
Who are we?
Hyperoptic is rolling out the largest gigabit network in the UK; more than 21 times faster than the national average. Ranked in The Sunday Times 'Tech Track' 100 fastest growing technology companies for the second year running and recent winners of 'Best Superfast Broadband' provider for the sixth consecutive year at the 2018 ISPA Awards.
We have big plans. This can only be achieved by growing our dedicated team to shift the boundaries of what's possible.
What will you be doing?
Efficient ongoing delivery of standout creative that performs against the business needs – on time and on budget – customer focused but with a strong understanding of performance marketing creative
Establish and run a fully effective creative process across the creative team and stakeholders using the available project management tools
Engage the relevant external resources to ensure ongoing delivery of our creative requirements
Ensure a highly motivated team of internal and external designers that work seamlessly together, share ideas and are constantly looking at how we can push our creative boundaries
Successfully embedded in the business with strong internal relationships to ensure that creative forms an integral part of the end to end execution and that performance-based feedback is continually fed in to the process to optimize
Meeting and exceeding commercial targets through more effective creative execution
What are we looking for?
Advanced skills in Adobe CS (Photoshop, illustrator), Sketch and other creative tools
Animation and motion graphics
Highly experienced in all aspects of marketing creative and touchpoints both on and offline (DM, email, web, display, social, animation) working across a variety of consumer brands with a strong creative portfolio for our review
Experience of working within a client - side environment
UX & responsive design principles
We're committed to providing equal opportunities to all applicants and employees – in fact this is at the heart of our company culture and values. We welcome applications from candidates with diverse backgrounds.
What happens next?
You apply (we have tried to make it a painless exercise)
We carefully review your application over a decent cup of coffee
You will hear from us. Even if it's a no (for this role)
We like to get things done. If you feel the same, click 'apply' or email us at talent@hyperoptic.com for more information.
Keep an eye on our careers site as we launch new roles every day: https://careers.hyperoptic.com/jobs/
We weren't joking about the hyperfast growth.
We look forward to hearing from you!
Deadline for applications: 09.07.2019.